Community Fibre continues rolling out across Battersea
Thursday, October 27, 2016 12:11 PM
The problem with London and broadband is the wide range of speeds, and with something like 3.7% of London premises still only able to access ADSL2+ it is no surprise that the exchange only areas of London are shouting with increasing volume to ensure they are not forgotten. Into this breach are stepping numerous providers, the highest profile one being Hyperoptic that has now been running for five years, but others such as Community Fibre Ltd are having an increasing impact as their roll-out progresses.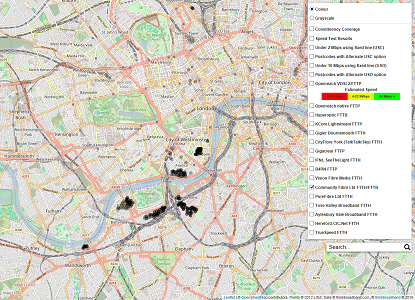 Map of Community Fibre Ltd coverage, available as a
map layer on our broadband stats site
The above map has just been updated with the latest set of postcodes where the Gigabit service is available across the Savona, Patmore, Carey Gardens, Doddington, Rollo and Surrey Lane estates where Community Fibre Ltd is working with Wandsworth council.
The roll-out is continuing with cabling work already underway at Battersea Fields and Ethelburga. For those living on one of the estates who don't already subscribe or have not experienced the difference a Gigabit connection can make there is an event for council residents on Friday 4th November between 11am and 2pm at the Carey Gardens club room, which includes demonstrations of the difference the new connection can make, info on the various packages available and for those who want it tablet training.
Three service speeds are available, a basic up to 20 Mbps down (1 Mbps upload) for £17/month, an up to 100 Mbps symmetric service for £30/month and the full symmetric Gigabit for £40/month, all are unlimited.
Comments
Post a comment
Login
Register