New EU study on Gigabit deployment costs highlights labour variations
Monday, October 10, 2016 12:00 PM
The big headline figure of €249 billion to deploy Gigabit FTTH or DOCSIS 3.1 across Europe is from one of the latest publications by the European Commission (research carried out by Analysys Mason) can be downloaded for free from the EU Bookshop.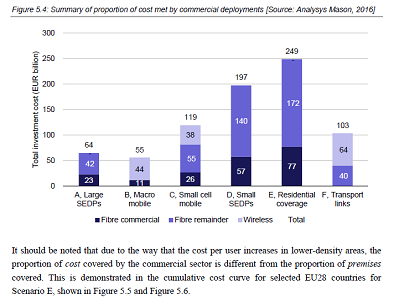 Scenario E is the residential coverage with 1000 Mbps download speeds, the other scenarios explore different deployments, for example scenario A is the cost of deploying Gigabit connection to universities, schools, business parks and SMEs of at least 50 employees, SOHO and smaller SME would be connected via either wireless or fixed line solutions.
The report does consider the impact of existing commercial roll-outs, and thus the sum that the EU would need to find if commercial plans across the EU 28 don't change substantially would be €172 billion.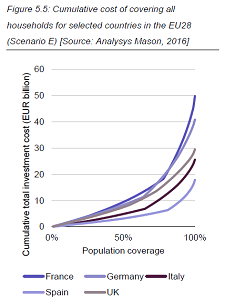 The standalone figure for the UK seems to be around €29-30 billion and thus has not changed much compared to the original 2009 figures that many still quote, though it is not clear how much of this would need be spending what the commercial operators achieve. The report does highlight that DOCSIS 3.1 (the next standard for existing cable broadband networks) is 10 Gbps capable and with UK commercial coverage for DOCSIS 3.0 sitting at just under 50% and increasing. Unfortunately this usually means the cheaper urban areas are almost totally covered already and the hockey stick of rising costs as you become more rural come into play, with urban areas managing to cost around €800 per premise, suburban €1000 and rural €2250.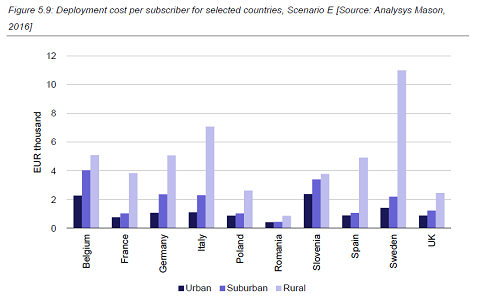 The report while not giving a breakdown on the cost of labour in different countries and the time needed to install various components of a FTTH network does integrate these into a cost to deploy a metre of ducting in various countries. Romania is the cheapest at €13/metre, Poland €23/metre, Spain €59/metre, UK €62/metre, Belgium €108/m. These costs highlight the need to re-use existing ducting where at all possible and or alternatively opt for an aerial deployment that brings the EU wide total down from €249 billion to €116 billion.
The exceptional work of B4RN and its volunteer army demonstrate what can be achieved and how volunteer labour that is not worrying about profit and loss but rather serving a community can keep costs extremely low. The question for policy makers is whether there is some way to reproduce this on a scale that can deploy millions of premises of FTTH in a timescale that keeps people happy.
Comments
Post a comment
Login
Register