VIVID 300 starting to appear in a subtle roll-out
Monday, September 26, 2016 3:22 PM
Virgin Media has previously launched a HomeWorker option but we believe a soft launch of a 300 Mbps download speed product is underway, as we are increasingly seeing VIVID 300 appear as an option for people (300 Mbps download and 20 Mbps upload speeds).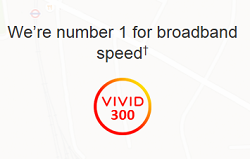 This does not make the HomeWorker tier redundant, as our understanding is that Virgin Media are probably going to upgrade that to be a 350 Mbps service, which of course ensures that it can retain its fastest provider for widely available broadband even once Openreach is delivering G.fast at a scale.
With some only defining ultrafast broadband as services of 300 Mbps and faster, the roll-out of a 300 Mbps would very quickly change the ultrafast landscape. The coverage tracking by thinkbroadband uses a 100 Mbps and faster definition for ultrafast the same as used by the EU across Europe. The FixBritainsInternet campaign is one of the most publically visible sites that may be using a 300 Mbps or higher definition. It is not totally clear whether they actually should be stating 2% FTTH coverage since based on other material from the campaign this is what they appear to mean.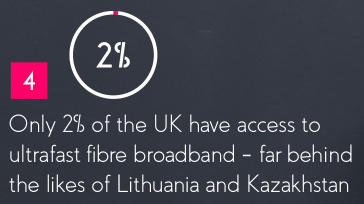 Perhaps there is a wider debate to be had about whether a 300 Mbps DOCSIS or G.fast connection behaves differently from a 300 Mbps FTTH connection.
Comments
Post a comment
Login
Register