CityFibre grows connections by 243% year-on-year
Monday, September 26, 2016 10:43 AM
The great pretender that may have a vision of unseating Openreach as the default fibre option for business use that is CityFibre has reported its results for the first half of 2016 revealing a massive rate of increase in the number of businesses connected.
In terms of national scale CityFibre has its metro network in some 37 cities and is very keen to promote each of these as a Gigabit city. The financial figures reveal at as of 30th June 2016 there was 3,490 connected customer premises on the metro network compared to 1017 in 2015 which is a big jump but is very much at odds with the promotional wording on the CityFibre website.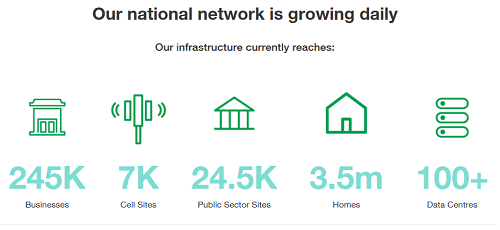 The key is in the way you read the wording, since 'infrastructure reaches' in this case we believe means that the 3.5 million homes are for example those in the 37 cities where the dark fibre exists rather than have a fibre pot within a few metres of the front door. The latest acquisition of Redcentric plc in a £5m transaction adds some 137km of duct assets and increases the presence to Cambridge, Portsmouth and Southampton which is a total of 40 cities.
The joint venture in York with TalkTalk and Sky which is what most of our readers will know CityFibre for has been progressing and we are seeing both TalkTalk and Sky customers, but mostly TalkTalk customers in the part of York covered. The York trial it turns out is smaller than the expected footprint since the maps suggested a footprint of 20,000 to 21,000 premises (around 1/4 of York) but as of June the network passed 11,000 homes and since then has increased to 14,000 homes, the question now is whether the phrase 'substantially completed' means we can expect the next 6,000 premises to be delivered, or will we need to revisit our coverage data in the area. The take-up is over 2,000 so running at 15% (it is not clear if these premises count in the 3,490 premises mentioned in the financials). While the take-up and trial is receives positive coverage the financials only talk about potential of going further rather than committing to more roll-out in other cities.
For those wondering what FTTH in a home looks like, as part of the promotion of the service needed to ensure that the high take-up targets are met TalkTalk has a FTTH showcase house in York, and a video showcasing the difference Gigabit FTTH makes to gaming compared to standard ADSL broadband is used to highlight why TalkTalk is backing the FixBritainsInternet campaign. Given the high availability of VDSL2 in the UK it would have been more instructive if the video was comparing VDSL2 (and maybe DOCSIS cable) against FTTH.
Comments
Post a comment
Login
Register