Pain of change felt by some Plusnet users with network migration
Tuesday, September 20, 2016 11:51 AM
Others have already reported on problems with the network migration that has been underway at PlusNet for sometime and we've been trying to find a way to quantify both the numbers affected and what evidence is present in our various tools such as the broadband speed test and our ping monitoring and unfortunately while individuals can show issues on their connections, spotting blocks of people affected is proving harder.
For those not aware the network migration at PlusNet is due to the provider starting to commission and move users to what should be a more scalable and cheaper to operate in volume WBMC network. The move is not something customers request, so it is often difficult to tell an everyday change in performance apart from issues arising from the move to the new network, or put another way even when people identify their connection as being on the new network symptoms such as packet loss, disconnections, video buffering, DNS problems and other issues can just be a coincidence.
Some hardware changes at PlusNet such as the Hub One (which is a BT HomeHub 5) makes it impossible to observe latency performance using external ping tools since this router cannot be configured to respond to pings, which when added to the default dynamic IP addresses at PlusNet makes spotting whether its 1 in 1000 or 1 in 3 affected is proving very difficult. Additionally PlusNet is mitigating some of the problems for some people moved to the new network by providing a static IP address via a tunnel across the new network.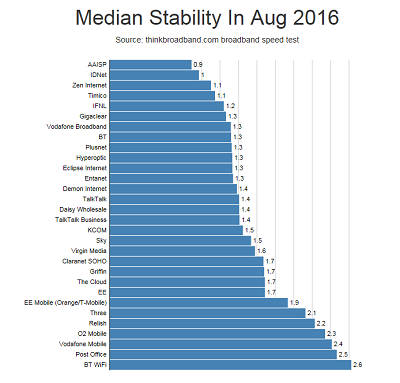 Click image for full size version
The above chart shows one of the metrics we produce from the speed tests results with the stability measure looking at the variability of the speeds during each test. Results of 0.9 to 1 are what in an ideal world one should see and as one would expect BT WiFi which is by its wireless nature and contended environment has highly variable results shows how bad things can be. If we eliminate mobile phones and tablets from the PlusNet result it does drop to a figure of 1.2, but similar drops apply to all the large providers. PlusNet is performing in the same band as its main competitors and the trend over time is pretty stable, suggesting that the new network problems of packet loss, variable speeds, disconnections and DNS issues while seriously impacting those afflicted are not yet affecting the majority of customers. If we take the performance of BT Wi-Fi as been bad (i.e. stability more than 2.6), then PlusNet shows around 15% of those testing on a PC with similar or worse stability, BT Consumer ranks at 12%, TalkTalk 16%, Sky 17% and Virgin Media 20%. We will keep more of an eye on this split as time passes when doing our monthly speed test round-up.
Comments
Post a comment
Login
Register