New estimate for the cost of rolling out G.fast to 10 million premises
Monday, August 8, 2016 1:36 PM
G.fast which is seen as an evil technology by some and a god send by accountants who don't want to commit to the costs of a widespread FTTP roll-out is set to be rolled out to some 10 million UK premises by Openreach by the end of 2020. That is the plan as things stand today, but given the political and economic climate this could all change, e.g. full Openreach split or a recession that stalls any industry investment.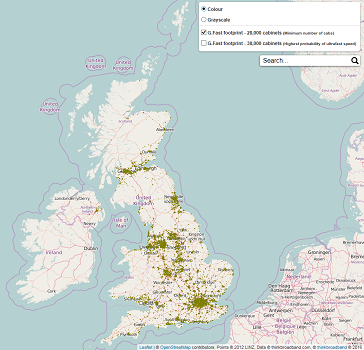 Click image for full size version
We produced a model that showed where we thought Openreach might deploy G.fast pods back in June with two scenarios suggesting between 28,000 and 38,000 cabinets would gain a pod or two.
The interesting part today is that Dave Burstein of DSLPrime has taken our figures and based on some estimates of the cost of a G.fast DSLAM has arrived at a cost of around $300m a year for the four years of the roll-out.
96 ports of DSLAM at $250 is $24,000. Multiplied by 40,000 cabinets you come to $960,000,000. Add 25% for overhead and cost overruns raises that to ~1,200,000,000, about 1% of BT's sales in the four years. A telco looking for a higher figure than $250 for a press release would come much higher. A vendor looking to bid low enough to guarantee the contract would probably come in much lower. Both could find senior economists who will confirm their figures for a fee.
The US dollar to Sterling conversion rate is vary variable at present but at the conversion rate while writing this item $300m is the equivalent of around £229m.
The Openreach investment plans also include 2 million premises of FTTP, which if you work to a figure of £500 per premise passed cost works out at a cost of £250m each year for four years. With FTTP the costs are going to be much more variable depending on the exact nature of the roll-out needed for each property, but the ball park figures illustrate the difference involved in adding another stepping stone before the inevitable full rollout of FTTP.
Comments
Post a comment
Login
Register