What do the universal broadband targets look like at this point in time?
Monday, July 25, 2016 10:05 AM
Before we go ahead and fully add the various alt-net FTTH providers into the full superfast, 2 Mbps, 10 Mbps and other statistics we produce we thought it would be a good point to share copies of the maps for where we believe Openreach/Virgin Media and KCOM is not able to supply a 2 Mbps or 10 Mbps or better service.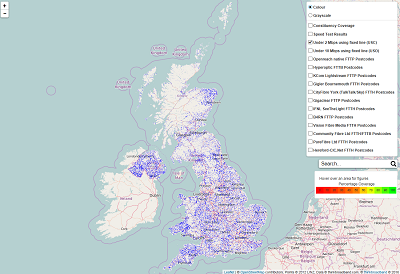 Click image for full size version
The Universal Service Commitment map above shows some 65,778 postcodes where our model for broadband in the UK believes that speeds of 2 Mbps or slower are available. The postcode lookup on our broadband coverage checker highlights those postcodes when people search and we will be checking the links to the various voucher schemes to make sure the links for obtaining vouchers are up to date. Generally the vouchers are enough to allow for a free install of a satellite broadband scheme and while this will allow for basic web browsing and email the low usage allowances mean that while some video streaming is possible using up the allowance is all too easy. Some of the local authorities have extended the vouchers to cover fixed wireless schemes which generally have better usage allowances than the satellite schemes and don't suffer the high latency that is implicit in satellite connectivity.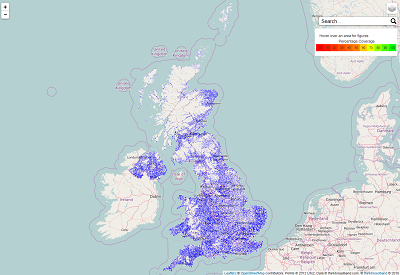 Click image for full size version
The more rapidly changing picture is the Universal Service Obligation map, which while not in force yet (since to be enshrined in law takes time) is still worth tracking. The 151,943 postcodes forming the USO map is dropping as the BDUK roll-outs continue and already comprises just 4.3% of UK households and how far it will drop depends on precisely where the superfast roll-out goes, but it is not impossible that this may be as low as 1.5% in late 2019.
The USO and USO maps are available as layers on our checker and while we do weekly updates to the coverage percentages, we run a cycle of endeavouring to update the USO/USC map layers every fortnight.
Of course making services available in theory is not much use if people don't adopt them, and that is why we are tracking speed test results carefully so for example England has gone from 0.4 Mbps as the download speed for the slowest 10% of tests seen in July 2009 to a figure of 1.9 Mbps in June 2016.
Comments
Post a comment
Login
Register