Ofcom release broadband complaint data for Q1 2016
Friday, July 8, 2016 3:47 PM
EE are still receiving the highest number of complaints about broadband customers according to data compiled by Ofcom. The data compiled covers Q1 2016 (January to March) and includes complaints from consumers received by the regulator. It doesn't however include complaints that have been made directly to the provider or to ADR (Alternative Dispute Resolution) schemes. Although different providers record the number of subscribers in different ways, Ofcom have checked the data to ensure it is accurate to provide useful comparison data for consumers.
The last two years of data, between Q2 2014 and Q1 2016, is displayed in the graph below.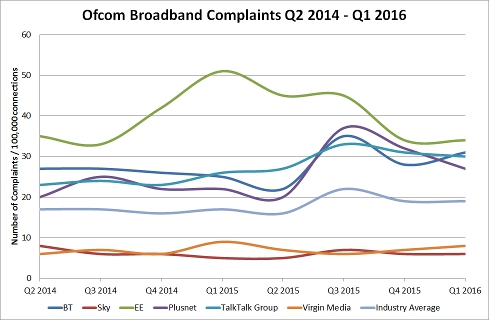 Click image for full size version
As can be seen, EE clearly have improved over time but still have a long way to go to get their broadband complaints down to the levels seen by Virgin Media and Sky who receive a lot less per 100,000 connections. With EE now joining Plusnet as within the BT family, there is obviously work to be done to get things improved.
Comments
Post a comment
Login
Register