Virgin Media announces 7,000 premises in Swindon set to get FTTP
Wednesday, June 15, 2016 5:21 PM
Virgin Media has announced some detail of its expected expansion in Swindon, with work set to start in the next couple of months and finish in early 2017 to deliver an extra 7,000 premises on top of the existing Virgin Media footprint. The 7,000 new premises passed will be connected via FTTP.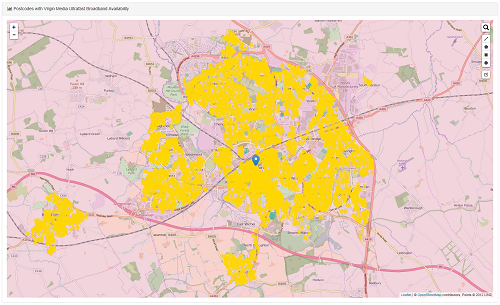 Map showing postcodes we have mapped as having existing Virgin Media cable services available in Swindon.
The roll-out is set to target Haydon, Priory Vale and Blunsdon St Andrew in North West Swindon with infill work in areas like Greenmeadow, Old Town, Toothill and Eastleaze.
"The calls from residents in Swindon for better, faster broadband have been heard and Virgin Media will soon be bringing our ultrafast connectivity and top-notch entertainment to more parts of the town "This investment demonstrates that under Project Lightning Virgin Media will build to areas which no other fixed broadband provider has previously been able to connect. Given that public funding has been used in some areas of Swindon to fund a mobile broadband solution, it's vital that local authorities properly assess the prospect of private investment before using taxpayer's money to fund broadband rollout.

We urge more communities to come together and register their interest. Your area could be connected next."

Paul Buttery, Chief Operating Officer at Virgin Media
The council roll-out under the SuperfastSwindon banner is not actually a mobile service, but rather a fixed wireless 4G LTE solution i.e. requires a small antenna to be placed on the outside of the property facing the mast. The older Relish service (via UK Broadband) relied on the internal antenna in the 4G router.
Commercial overbuild in areas where public money has been spent or is in the process of construction is always a minefield and Virgin Media to give credit is stating that it spent at least 18 months trying to get the areas it would be delivering to removed from the BDUK Phase II roll-out. The 7,000 premises builds on the current 76% cable coverage in the Swindon District council area and thus we should see coverage climb to around 83 to 84%, the impact on the overall superfast figure will depend on the overlap with VDSL2 from Openreach, though based on the information released so far this may be minimal.
While all the policitcs and arguing can be tiresome, this does present a perfect test bed to finally see if 4G in a fixed configuration can deliver everything promised of it and what the take-up will be, one presumes that the Swindon contract includes a gainshare arrangement similar to the existing BT contracts. With the FTTP expansion by Openreach which does appear to be more limited in nature so far in Swindon, the Virgin Media announcement and the 4G LTE there may be some with the choice of two ultrafast networks and one superfast.
Relish customers in Swindon are seeing good speeds, and one of the best in terms of not just speed but overall quality was this test and while we are seeing some faster and some slower we need more customers testing to get a good idea of overall performance, in terms of speeds, latency and stability. The initial impressions are faster than we expected, but some people are still testing under 24 Mbps and even some fast connections show the classic variable speeds and quality issues that mobile 4G can result in (it is possible the under 24 Mbps users are on the old routers with indoor antenna or suffering poor Wi-Fi speeds in the home of course). It is this variability that may not impact on services like Netflix which was coded to cope by utilising buffering, but people like online gamers can be hyper sensitive to QoS variability.
Comments
Post a comment
Login
Register