More ultrafast for new builds as partership between Virgin Media and HBF announced
Tuesday, June 14, 2016 1:34 PM
For far too long in the UK new build premises were often at the back of the queue for decent broadband with only a small number of builders bothering to ensure good broadband was a key feature rather than relying on the decades old USO. Virgin Media and the Home Builders Federation has announced a new partnership aimed at increasing the amount of ultrafast broadband available in new builds.
A key part of the partnership is a new portal to help home builders with all the technical detail of what a Virgin Media deployment requires, a new site request form and the offer to carry out an initial site assessment free of charge. Additionally as with Openreach materials for connecting homes will be supplied for free and additionally Virgin Media will operate a rebate scheme to cover the costs of work involved.
"By partnering with Virgin Media, developers can build 21st Century homes, equipped with the most modern broadband infrastructure delivering the fastest speeds. With our network growing at a faster pace than ever, the more demand we get from developers, the more we can do to support them."

Paul Buttery, Chief Operating Officer at Virgin Media
This is another part of the Project Lightning expansion that should see the Virgin Media footprint expand from 13 million premises to 17 million and involve around 1 million FTTP premises. A glimpse of what is involved in the Virgin Media FTTP deployment is available in the developers guide, though of course this is subject to change so don't use this screenshot to try and outfit a home in preparation of FTTP but may help people to spot areas that are getting FTTP over the more normal DOCSIS network.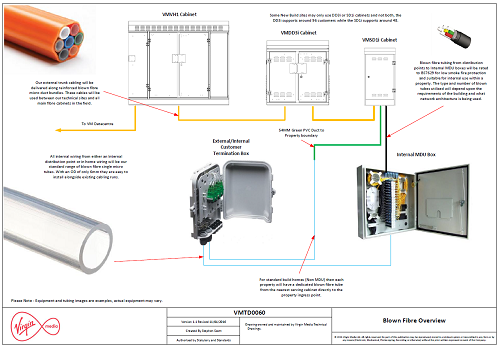 Earlier in 2016 Openreach announced it was working with the HBF too and it will be interesting to see how this all plays out in the commercial market, it may mean we see new estates going up with Openreach FTTP and Virgin Media FTTP available from day 1. The degree of overlap is the big unknown and with the two largest UK broadband infrastructure operators keenly going down the FTTP path, smaller operators may find it harder to compete after a good few years of being the only game in town.
Comments
Post a comment
Login
Register