Update on G.fast and LR-VDSL2 trials from Openreach
Tuesday, June 14, 2016 11:30 AM
In a round table meeting with various publications Clive Selley who has been the CEO of Openreach for around four months now briefed journalists on his 'Better, Broader, Faster' strategy.
In the meeting the emphasis was very much that the way forward is dual pronged with the mixture of G.fast and FTTP with a particular emphasis that the FTTP footprint will address the large gap between existing superfast product ranges and the much higher entry level cost of Ethernet services. In short don't expect bargain basement Gigabit FTTP pricing from Openreach, but realistic pricing with various wraps and options that will make it ideal for business use, examples cited covering things like same day repair, lower splits over the GPON element. The ambition being that by 2020, of the 2 million FTTP premises passed half will be business premises in high streets and business parks.
The G.fast side was expanded on, with a little information on how the cabinet based G.fast roll-out will look like in practice. Pods will be fitted to the side of the green PCP cabinets with the power and fibre run in from the associated VDSL2 fibre twin. The location at the PCP reduces the copper run which is more important for G.fast and while a DP based deployment is ideal for perfect coverage, this cabinet led roll-out should allow for a very rapid deployment.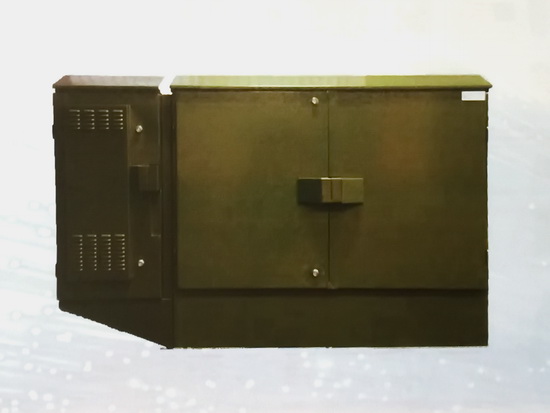 A pod will support 96 G.fast ports (i.e. 4 cards of 24 ports) but since G.fast is vectoring based by default this means that with the initial chipsets deployment will be 2x24 ports with later expansion as vectoring engines evolve to handle the mathematics to handle 96 ports running in the 17 MHz to 106 MHz band.
Long Reach VDSL2 that was talked about originally last September is out of the labs and in the field with a public trial in Isfield, East Sussex to gather real world data on performance and thus verify the lab work. The sweet point being that at 2.5km LR-VDSL2 should provide 10 Mbps download speeds which is a substantial increase on existing VDSL2, and based on our figures 97.5% of lines with an existing green cabinet are under 2km long.
On the service levels which are never far from the headlines, while Openreach is meeting and exceeding the Ofcom mandated levels that ramp up each year, the CEO wants to ensure these are seen as minima rather than absolute targets, and changes to ensure more of the engineering staff are multi-skilled e.g. have the appropriate training and certification for working both underground and at height thus reducing the time it takes to fix problems after storms and/or floods. The changes to connectorised fibre for FTTP and new tools such as a simple to use hand drill powered duct clearing tool to help clear a way through existing ducting without damaging existing cabling will also play their part.
On the Universal Service Obligation while a long way from being set in stone, Clive suggested that Openreach believes only the final 1% will be left relying on satellite or fixed wireless solutions, with fixed line solutions looking able to bridge the gap between superfast coverage and the USO. Openreach obviously has a major part to play in the USO and a clear emphasis was made on what we previously have understood to be the case, that while the USO is a proposed 10 Mbps the hope is to use solutions that will exceed that by a reasonable margin.
As always the proof will be in what is delivered, but this applies to all the operators in the UK where a lot of good PR is produced declaring ambitions to pass millions of premises with ultrafast broadband.
Update Wednesday 15th June A few more snippets of information, longest operating G.fast line in trials is 400m and delivering ultrafast (100 Mbps and faster) speeds. Seven providers are taking part BT Consumer, EE, PlusNet, TalkTalk and Zen. Three different equipment vendors in the trials ADTRAN, Huawei and Nokia.
Comments
Post a comment
Login
Register