Superfast fixed wireless improves broadband in Monmouthshire
Thursday, March 3, 2016 2:30 PM
The Superfast Broadband pilot projects for the final 5% have taken another leap forward, as AB Internet now has its up to 50 Mbps fixed wireless service available across Monmouthshire.
"We're delighted to bring a superfast broadband service to Monmouthshire's hard to reach rural areas. This landmark initiative makes the county better connected and more resilient in the digital age as a great place to live, work and play and more competitive in the Cardiff Capital Region.

The initiative also helps the authority to make a reality of its iCounty vision to become one of the most inspiring spaces for digital advancement, an iCounty characterized by a growing digital economy, a smarter public service and a more networked society."
We have translated the outline of the area AB Internet cover in Monmouthshire and it is searchable on our broadband checker now, along with the other parts of the UK AB Internet serve. We do not count any of the fixed wireless solutions towards the percentage coverage levels yet, at this time it is likely that later in 2016 we will integrate the alternate networks but only assign a speed value sufficient to tick the USO (10 Mbps) box (AB Internet in February 2016 from the tests we have seen averaged 8 Mbps download speed). Hopefully as take-up increases in areas like Monmouthshire we will see more people testing and the full range of speeds available to customers.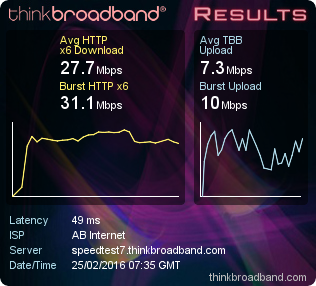 Comments
Post a comment
Login
Register