Aylesbury Vale Broadband expanding to Granborough
Wednesday, February 17, 2016 10:39 AM
Aylesbury Vale Broadband has had live properties in North Marston for a little while now and has announced expansion with a 3km dig to Granborough. The FTTH project is a joint venture with Aylesbury Vale District council and offers up to 300 Mbps broadband packages, with an entry level 30 Mbps service at £30 per month, a symmetric 100 Mbps service for £38 per month and the full 300 Mbps at £135 per month.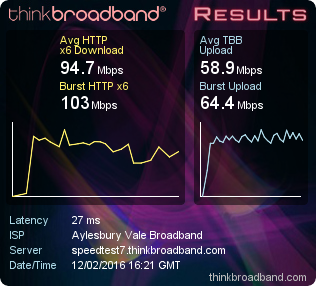 The above speed test result is an example from one of the live premises in the area and looks like the up to 100 Mbps service and is more impressive when you learn that it was carried out on an iPad (meaning a Wi-Fi connection).
We have added the postcodes for the main area of Granborough to our broadband availability checker and as more people take-up the service we will hopefully discover which IP blocks Aylesbury Vale are using to improve the provider plotting on maps.thinkbroadband.com.
Comments
Post a comment
Login
Register