Swindon push to support 4G LTE fixed wireless hits hurdle
Thursday, February 11, 2016 10:48 AM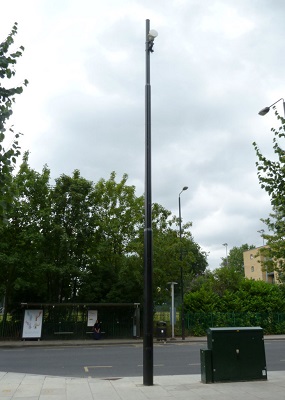 If the rejection of five masts had happened in a pure rural area we suspect the public reaction would be very different but residents and campaigners appear to be celebrating the decision by Swindon planning authority to reject applications for 5 masts that were part of the plans to extend superfast coverage in Swindon. This means that rather than the council/BDUK/UKB project covering 20,000 premises it would only cover 13,000 unless alternate locations can be found for the remaining masts. The planning applications were dealt with individually with the rejection revolving around objections to the proposed location rather than the concept of wireless broadband.
Much of the campaigning in the town revolves around people wanting fibre based broadband, be that VDSL2, cable or full FTTP and the most galling thing for many is that these networks end just around the corner, but as the 4G LTE bid was the only one submitted in the procurement process it won. The southern side of Swindon has one estate with INFL FTTH and a second is being built with Openreach FTTP as the preferred broadband option - one wonders why developers in the northern part of Swindon never explored similar options. Swindon of course does not end at the edge of the existing estates and does have a geographically large but sparsely populated fringe, but this may change as we believe there are plans to add another 20,000 homes in the area to the existing 95,000 or so over the next decade.
Swindon skipped the phase 1 BDUK process as it was looking at a joint venture to blanket the area with Wi-Fi back then and the coverage levels of 82.3% superfast and a 75.5% cable from Virgin Media presence are the result. The Superfast Swindon plan is meant to increase superfast coverage to 99.4% of premises. What is odd is the wording on the official Superfast Swindon website which is a partnership with Swindon Borough Council, DCMS and UKB, which promises 'buffer free streaming' and via phrases like 'Bringing Superfast Broadband to Swindon, Castle Eaton, Hannington, Highworth, South Marston, Liddington, Wanborough, Bishopstone, Chiseldon, Wroughton and surrounding areas' and 'Swindon Borough Council are working in partnership with Broadband Delivery UK (BDUK) and UKB Networks to deliver faster, more reliable superfast broadband to 99.4% of homes within the Borough by mid 2016' gives the impression to the uninformed that no superfast options are already available in the borough. Checking a postcode that has access to superfast VDSL2 and up to 200 Mbps Virgin Media cable tells someone that it is outside the project scope and sends them off to the DCMS checker which then does suggest Virgin Media, Openreach fibre and ironically Relish superfast broadband may be available. In our opinion the Superfast Swindon website should be doing a better job of showing the reality that the majority of the borough already has access to superfast broadband and 3 out of 4 can access ultrafast services.
UKB when describing what the project will deliver highlights the fact that as no voice traffic is needed the 6 x 20 MHz frequency blocks they have in the 3.5 GHz spectrum should perform a lot better than existing 4G mobile networks and this is even more the case when the ~30cm dish/antenna is fitted onto the outside of the premises. When we previously covered Swindon we showed a map of the speeds existing Relish customers were getting, but the UKB PR firm insisted that those speeds were unrepresentative, so in researching this article we found out that apparently DCMS tested the UKB service and rubber stamped it as NGA approved (we have our doubts as to whether DCMS dispatched a technical team to Chiseldon to carry out extensive testing, but rather analysed data UKB supplied) in Chiseldon and the best test we can find in that small area is shown below, of course we have no way of knowing whether the new dish system was in use or not.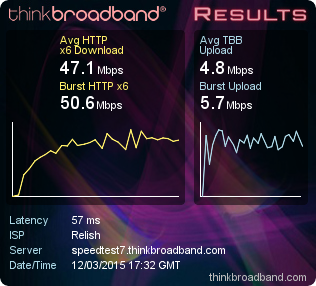 So why did BT Group and Virgin Media not bid? Simple answer we don't know but the wholesale access is the normal stumbling block for Virgin Media. What we have heard is that Virgin Media did offer to roll-out its cable network (which may have also included some FTTP as in other areas where they are rolling out via Project Lightning) to the same footprint and included some long cable runs to small clusters of premises, but this offer which would not need any BDUK or Swindon Borough Council money was rejected. Given cuts in other services that are taking place in Swindon there are questions to be asked why the council opted to spend some of its own money when someone offered to effectively do it at no cost to the council. One clue appears several times when reading up on the project and Q&A sessions in public meetings which is an aversion to roadworks and pavement digging in the council.
For those wondering about the retail side and packages, as yet we can find nothing suggesting who the retailers will be, but the UKB roll-out will be available on a wholesale basis with 2 x 10Gbps backhaul for the wireless network of potentially 20,000 homes and retail pricing and usage allowances will be down to the retailers. One simple assumption is that at least Relish will sign-up, as for who else we have no idea at this time. Public questions about the cost of mounting the dish were deferred with the proviso that the cost of that install could be spread out over the contract term, and UKB promised to work with those who had covenants that would otherwise stop them putting up an external dish.
The 4G LTE roll-out with the outdoor antenna (dishes) rather than Relish style 4G routers is due to take place this summer, so we will keep a keen eye on speed test results in the area and look forward to results that beat the latest mobile phone networks which are already showing tests at over 100 Mbps.
Comments
Post a comment
Login
Register