UK within 0.8% of the original BDUK phase 1 superfast broadband goal
Sunday, February 7, 2016 12:06 PM
The UK is edging closer to its original BDUK target of 90% superfast broadband across the UK every week and it is looking like the 24 Mbps or faster target will be crossed in March and the EU figure of 30 Mbps another couple of months later. Given the political ambition is 95% superfast coverage by the end of 2017 and as individual projects push on and they are getting to ever more sparsely populated areas in the main the 95% figure may look easy but we are seeing roll-outs slowing in some areas as the premises per cabinet ratio gets worse.
What is interesting is observing the complaints about broadband which are not diminishing even though more people can get superfast broadband but are actually increasing, and this is even allowing for the lobbying that is underway over what Ofcom should and will do with Openreach. We believe that complaints are going to get worse as coverage levels improve, this is because those missed out will be increasingly worried they are in the final 5% which has no firm delivery promises yet.
The changes are not all rural or peri-urban and with the Virgin Media Project Lightning expansion now starting to make an impact and Openreach still delivering some totally commercial cabinets in urban areas it is not all BDUK gap funded improvements.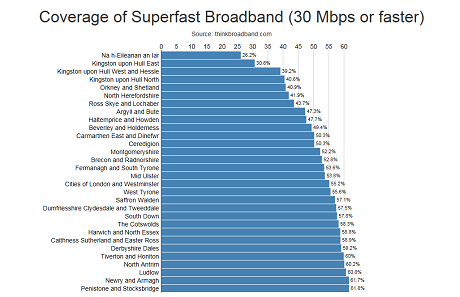 The bottom 30 out of 650 Parliamentary constituencies probably holds few surprises for those living in those areas. The large presence of Hull constituencies is because of KC carrying out a FTTH roll-out which is slower to deliver than superfast coverage, and would be in the bottom half of the 650 constituencies even if you used ultrafast broadband as the ranking metric such is the availability of Virgin Media cable across the UK.
thinkbroadband calculation of Superfast, USC, USO and Fibre Broadband Coverage across the UK, its nations and regions for premises
In descending order of superfast coverage - figures 7th February 2016
(change since 7th January 2016)
Area
% fibre based
% superfast
24 Mbps or faster
% superfast
30 Mbps or faster
% Ultrafast
100 Mbps or faster
% Openreach FTTP
% Under 2 Mbps USC
% Under proposed 10 Mbps USO
South East
96.6%
93.6% (+1)
93%
48.7%
0.75%
0.5%
2.7%
London
95.2%
93.4% (+0.1)
93.1%
67.8%
1.41%
0.3%
1.8%
East Midlands
95.8%
93% (+0.3)
92.4%
56.6%
0%
0.6%
3.1%
North East
94.6%
92.7% (+0.1)
92.3%
50.9%
0.04%
0.3%
2.5%
West Midlands
94.2%
91.6% (+0.5)
91.1%
61.4%
0.07%
0.5%
3.6%
North West
94.9%
91.6% (+=)
91%
45.6%
0.38%
0.8%
4.1%
England
93.4%
90.3% (+0.5)
89.6%
52.6%
1.12%
0.6%
4.3%
United Kingdom
92.8%
89.2 (+0.5)
88.5%
49.8%
0.97%
0.8%
5.1%
East of England
91.8%
88% (+0.6)
87.2%
47.66%
0.34%
0.8%
5.6%
Wales
90.3%
85.9% (+0.8)
84.7%
29%
0.33%
0.9%
8.4%
South West
90.8%
85.6% (+0.9)
84.6%
42.7%
2.51%
1.1%
7.3%
Yorkshire and Humber
88.4%
85% (+0.6)
84.2%
48.1%
3.01% (includes KC Lightstream)
0.7%
7.2%
Scotland
87.2%
83.2% (+1.1)
82.4%
39.2%
<0.01%
1.3%
9%
Northern Ireland
95.7%
78.7% (+1)
77%
27.2%
0.07%
7.2%
14%
The ultrafast column is a new introduction since January and replaces the cable column. The ultrafast figures combine operators like Virgin Media, Openreach FTTP, Gigaclear, Hyperoptic, B4RN, IFNL and other broadband providers who can offer a 100 Mbps or faster connection. The only operators contributing to the levels of fibre based and superfast coverage remains Openreach, KC and Virgin Media with the smaller operators due to be added once the 90% superfast target has been reached.
The big surprise of the month has been the South East region jumping from position three to the top of the table as the best served region for superfast broadband, which is a major achievement though partially helped by the number of enquires from people in the region that meant error checking of the model has closed the gap slightly between the basic something fibre/NGA based is available figure and a service also being available at speeds of 24 Mbps or faster. For the speed freaks London still wins in terms of the availability of ultrafast options and due to FTTH from Vision Fibre Media in the Barbican the small City Of London Borough has higher ultrafast availablility than superfast at this time.
We should highlight that while Westminster is aiming at an overall UK goal of 90% superfast and local authorities were asked to try and contract that coverage, not all of them did, some signed contracts to deliver under 90% and some more. Scotland had an 85% fibre based target and is working now to a 95% fibre based goal and if the current gap between fibre and superfast continues that may deliver 91% superfast coverage. Wales has a target of 96% (FTTC/FTTP based) fibre coverage by the end of 2016 and the 90.3% figure currently suggests they will reach this, with the likely result of being over 90% superfast, the exact figure will depend on how much more FTTP that is the pipeline actually goes live. The Welsh SuperfastCymru target is the one most often misquoted with many saying 96% superfast, which is not impossible but this would require a lot of FTTP coverage, or put another way delivering more FTTP than KC has delivered in the compact Hull area in just ten months rather than a few years.
Comments
Post a comment
Login
Register