The great broadband debate, emotion or data?
Monday, January 25, 2016 2:33 PM
So the weekend has been an interesting one with regards broadband and what might happen in the future as 121 MP's have put their names behind a report that is hiding nothing when it says that it wants Openreach to be sold off and operated as a independent company with the belief that this will solve the problems people have with fault repair and also increase competition and availability of superfast or ultrafast services.
The report is available online and was led by the Rt Hon Grant Shapps MP for those who want to read it and form their own conclusions.
The worry we have is that it is entirely possible that due to the use of old data held by the House of Commons Library that some MP's may have signed the paper without the full facts. The report is using coverage data generated by Ofcom from May 2015 and based on our tracking the UK has gone from 84.4% superfast broadband coverage at the start of May 2015 to 88.3% as of 22nd January 2016 (this is superfast coverage at 30 Mbps and faster, those too far from the cabinet for VDSL2 services do not feature in this figure).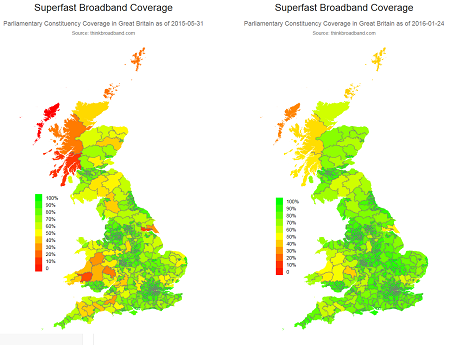 Apologies to Northern Ireland, we do not have a NI map that can be populated programmatically hence why we are showing just Great Britain. Northern Ireland analysis is available on our checker by browsing areas or by postcode search.
The original target was for 90% superfast coverage by May 2015 and while that has slipped, the trends are showing that if you accept 24 Mbps as a basic superfast speed this will be hit late February or early March, with the 30 Mbps figure later in March 2016. So while after 2015, it is not that far outside of 2015 that you could label the BDUK project a failure, particularly when you consider this is an infrastructure project spread right across the UK.
Of course 88.3% UK wide coverage is not uniform and we have never pretended otherwise, and to help illustrate the variations here are examples of three areas mapped at a resolution where each area is around 12 to 18 postcodes, so the large areas often with low coverage are also the most sparsely populated.
| | | |
| --- | --- | --- |
| Detailed Map West Lancashire Superfast Coverage | Detailed Map South Buckinghamshire Superfast Coverage | Detailed Map Kirklees Superfast Coverage |
NOTE: Alternate operators qualifying as superfast are not yet rolled into these maps, once the nation hits the 90% figure we will add these. They are not currently included to ensure that the work of local groups and competing operators does not get confused with the progress of the phase 1 BDUK projects.
The other way of looking at the roll-out is to actually look at what people are actually buying and speed testing and therefore we thought we'd share the speed test profile for tests we have seen in GB Hamlets area sparse (this is an area that represents 200,000 premises or 0.7% of UK households) and while ADSL and ADSL2+ services are the most widely used, there is clear evidence of people using up to 76 Mbps and up to 38 Mbps services.
NOTE: Speed test results will always lag behind availability as services need to first be made available and then people need to upgrade, so even once the UK hits 90% superfast availability it will be some years before we see close to 90% of tests over 24 Mbps or 30 Mbps depending on your preferred definition of superfast.
So while 1 in 10 are still not superfast and by our figures 1.2 million premises can only get a 10 Mbps or slower service from fixed line broadband (200,000 of these have the option of a fixed wireless or alt-net FTTH solution) the situation is not as dire as made out, and the number under 10 Mbps was around 2 to 2.5 million back in May 2015. So we sincerely hope that those in positions of power will use the latest available data and encourage speed to run speed tests so that if the roll-outs are not providing what our model suggests that it will become very obvious very quickly.
Comments
Post a comment
Login
Register