Connecting Cambridgeshire celebrates passing superfast broadband project target
Friday, January 22, 2016 9:48 AM
Celebrations are taking place in Cambridgeshire and Peterborough which form the Connecting Cambridgeshire partnership as the project has helped almost 100,000 premises gain the option of a superfast broadband service.
"The Government's rollout of superfast broadband is making tremendous progress, and with one of the highest take-up rates in the UK, Cambridgeshire is a leading digital county. We've already reached an additional 3.5 million UK homes and businesses, almost 100,000 in Cambridgeshire and Peterborough alone, and the Connecting Cambridgeshire project will reach another 6000 premises in the next phase of our plan."

Digital Minister Ed Vaizey
Peterborough is in 35th place out of all the 219 local authorities we are tracking superfast coverage for and Cambridgeshire is in position 3 of 30 for the counties we track. Of course coverage is worthless if people don't buy the service and it appears with take-up rates almost at 30% in the project footprint that the faster services are popular. Of course for those who have missed out so far the feeling will be that the project has been a waste of time, but more coverage is in the pipeline and the final 5% may see a mixture of wireless or satellite broadband to deliver superfast services (there is also the Gigaclear presence in Peterborough/North West Cambridgeshire that may expand). Of course if take-up can be pushed further and get close to 40% the next claw back bonus may be released and fibre based services especially FTTP could then be used more than already in the county. A good deal of the native FTTP in Cambridgeshire is due to new build premises in Trumpington to the south of Cambridge.
thinkbroadband calculation of Superfast, USC, USO and Fibre Broadband Coverage for Cambridgeshire and Peterborough
Figures 21st January 2016
Area
% fibre based
% superfast
> 24 Mbps
% superfast
>= 30 Mbps
% ultrafast
%

Openreach

FTTP
% Under 2 Mbps USC
% Under 10 Mbps USO
Cambridgeshire+
Peterborough
97.5%
93.8%
93.1%
57.5%
1.5%
0.9%
3.1%
Cambridgeshire
97.2%
92.7%
91.9
51.9%
1.95%
1.1%
3.6%
Peterborough
98.7%
97.3%
97%
76.5%
0%
0.2%
1.2%
Constituencies
Cambridge
97.8%
97.7%
97.7%
92.1%
0.1%
0.1%
0.4%
Huntingdon
98.1%
95.6%
95.4%
71.6%
0.65%
0.6%
2%
North East Cambridgeshire
96.3%
89.7%
88.1%
21.4%
0.25%
1.8%
5%
North West Cambridgeshire
98.5%
94.3%
93.5%
41.1%
0.25%
1.2%
3.4%
Peterborough
98.5%
97.5%
97.5%
84.2%
0%
0.2%
1.1%
South Cambridgeshire
95.9%
90.3%
88.8%
51.7%
9.36%
1%
4.3%
South East Cambridgeshire
97.8%
91.5%
90.6%
44.6%
0.4%
1.3%
4.7%
The ultrafast column combines Openreach FTTP, Virgin Media cable and FTTH services such as Gigaclear, i.e. any service with a connection speed option over 100 Mbps. Gigaclear does not feature in the fibre/superfast figures yet, but will be added once the UK hits the 90% superfast mark.
The original goal of the project was 90% superfast coverage and that has been beaten by a fairly large margin and with another 6,000 premises expected in 2016 this should see coverage hitting 95% at 30 Mbps or faster across Cambridgeshire and Peterborough. Of course even though the coverage levels are well above the UK average there are still gaps and our map of coverage in the Fenland District Council area highlights the variations. The areas are based on collections of census output areas and thus represent fairly consistent population/household figures making it easy to spot the town of Wisbech in the North East corner and the less dense town of March in the middle.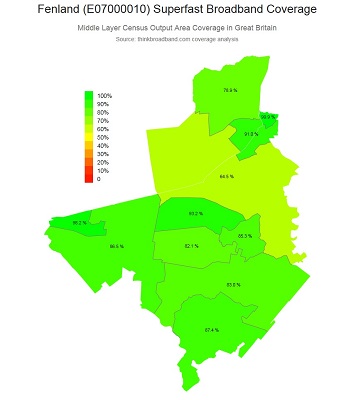 Of course making faster broadband available to people is not the whole story, hence the often voiced complaint that homes passed is a false measure even though it is used globally to measure broadband roll-outs. To judge take-up once needs to look at what people are buying and our speed test results provide a good insight into this area and you can compare and make up your own mind if areas with better coverage have better speeds.
| | |
| --- | --- |
| Fenland District Download Speeds Q4/2015 | Fenland District Upload Speeds Q4/2015 |
As more projects cross the 90% barrier and start work on the next 95% target tracking the speed that people are experiencing rather than a modelled result will become more important.
Comments
Post a comment
Login
Register