Government response to EU suggests FTTH for all not on agenda
Monday, January 18, 2016 5:26 PM
The UK is ploughing on with the roll-out of superfast broadband and while it will look like nothing has changed for a decade for those yet to see any benefit from the BDUK process with 88.9% of UK premises having the option of a superfast broadband connection at speeds of 24 Mbps or faster and importantly some 9 million have actually upgraded shows that things are changing.
The EU is trying to look towards the future and has been carrying out a public consultation on what broadband will need to provide from 2020 onwards - remember in theory all the EU by 2020 should have a 30 Mbps or faster connection and half the EU be using a 100 Mbps or faster service. To this end the UK Government has published its response and the section likely to draw the ire of some is:
"In future, while there is likely to be an expansion in FTTP deployments, G.Fast will allow ultrafast speeds to be delivered over copper networks. Cable will also continue to have a role to play in delivering ultrafast services and the capability of satellite communications will also grow, which will be particularly important in serving hard-to-reach areas."

Extract from UK Gov response to EU consultation
The quoted paragraph is going to anger some, as it appears to be pandering to the G.fast plans of Openreach, but it does recognise that there are increasing amounts of FTTP in the UK, and actually when you look at the availability of ultrafast broadband there are more than enough areas for the analysts to survey and decide how much of a difference ultrafast broadband makes to the profitability of business and how it can improve home life.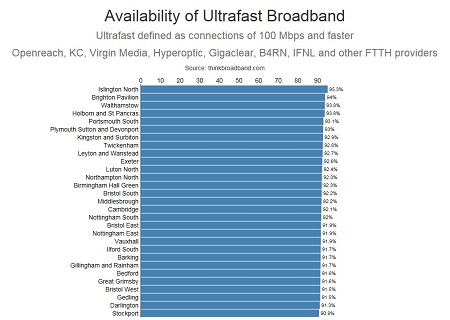 The top thirty Westminster constituencies show exceptionally high ultrafast availability and while the majority is from Virgin Media we are tracking the contribution of other providers. While ultrafast has a widely accepted definition of 100 Mbps (Ofcom prefers 300 Mbps) all the providers currently offer at least a 200 Mbps service, and in a year or two 300 Mbps will be part of the consumer Virgin Media line up and once DOCSIS 3.1 is deployed even faster speeds are possible, including Gigabit.
Constituencies are generally areas with around 50,000 households, so viewing the coverage by local authority gives you an idea of which larger parts of the UK has high ultrafast availability.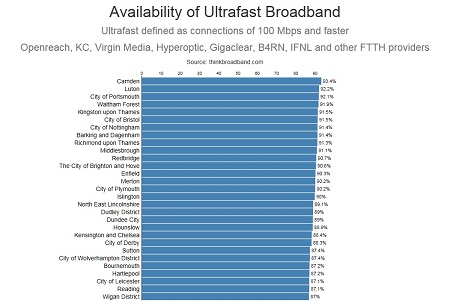 The overall UK picture is that ultrafast is available to 49.7% of UK premises, and we have just started to track the roll-out of Project Lightning by Virgin Media which just recently raised the cable providers coverage from 48.5% to 48.6%. The other 1.1% of ultrafast coverage is the combination of Openreach FTTP, Hyperoptic FTTB, KC FTTP and the longer tail of smaller operators (FTTH nationally is available to more than 1.1% of premises but some of these overlap with other FTTH providers or Virgin Media).
So where will the UK be in 2020? Well the Virgin Media coverage may be in the 60 to 65% region, CityFibre plans vary between 5 million and 10 million FTTH homes passed, KC aims to have Lightstream available to all of Hull and both Gigaclear and Hyperoptic intend to keep on expanding, so ultrafast coverage out to 70%-75% looks achievable. The superfast BDUK projects might add another 1-2% of gap funded FTTH too (Gigaclear and Openreach) running until during 2017. If Openreach does go ahead with its G.fast/Fibre Premium roll-out it is very likely to largely overlap these competitiors but there is a chance that with no actual public money spent on the G.fast roll-out we could be looking at 80% ultrafast coverage across the UK.
While we know that satellite broadband has a role in filling the sub 2 Mbps targets, the only way it could be considered as suitable for a lot faster is low earth orbit clusters rather than geo-stationary satellites currently used. The lower orbit is the only way to reduce latency and as the way we all use the Internet becomes more interactive this is critical. Fixed wireless, 4G and the mythical beast that is 5G does have a place in the mixture but if speeds of 200 Mbps are to become the norm (and not plumment to ADSL type speeds at peak times) then the mast density and frequency blocks available need to be utilised more efficiently or a lot more found by killing off more broadcast TV channels.
Comments
Post a comment
Login
Register