Scotland passes the 85% fibre based target on time
Monday, January 4, 2016 11:43 AM
Government procurement is littered with projects that overrun their budgets and deadlines, but the Digital Scotland project has done something that will upset a lot of people and delivered what was promised and on time. The goal for Scotland was 85% of premises with the option of a fibre based broadband connection by the end of 2015, and moving forward this is to rise to 95% for 2017.
As things stand based on our analysis of 3rd January 2016 Scotland has a fibre based solution (FTTC or cable broadband) available to 85.8% of premises and our model calculates that this is 81% at 30 Mbps or faster (81.8% at 24 Mbps or faster). There is some FTTH in Scotland, but this is some flats in Glasgow by Hyperoptic that is not included in our figures (yet) and some flats re-purposed after the Commonwealth Games.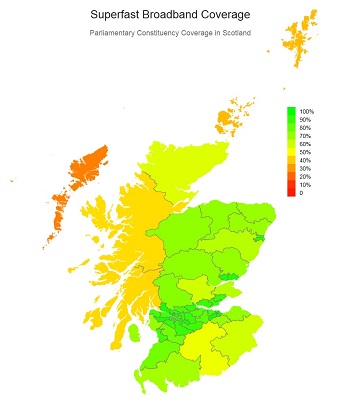 A grey scale version of the above map is also available
The above constituency level map shows that coverage is far from uniform, but when you consider that the constituencies are usually a population of around 50,000 it soon becomes clear how few people live in some parts of Scotland. A large amount of Exchange Only lines have been converted with new cabinets to provider FTTC supplied but as with the rest of the UK those missing out are keen to find out if and when they will benefit from the upgrades, i.e. FTTC while very fast to roll-out compared to FTTH is still not appearing fast enough for those still stuck on up to 7 Mbps ADSL services.
Listing all fifty nine constituencies that cover Scotland would be very long table, but Glasgow North leads the pack with fibre coverage of 98.3% (98.2% over 30 Mbps) and Na h-Eileanan an Iar (Western Isles) is at the bottom 39.7% fibre based (25.4% over 30 Mbps) and back in June 2015 was big massive zero percentage of premises covered.
The arguments over why more FTTH has not been deployed and whether VDSL2 is future proof will now be debated, but one often overlooked aspect is that while VDSL2 as a standard may fall by the wayside, the fibre infrastructure feeding the many thousands of cabinets deployed has the spare fibres and hardware ready to support an eventual GPON FTTH roll-out, no timetable has been set but the option to upgrade the roll-out is there, all it needs is major shareholders in BT to decide its worthwhile return on investment or for the public purse to place the ability to stream 4K TV above other priorities, like health and flood defences.
Comments
Post a comment
Login
Register