Nasareth hamlet watches as FTTP arrives for Christmas
Tuesday, December 15, 2015 9:13 AM
The small rural community of Nasareth in Gwynedd should be starting to see FTTP via the Superfast Cymru project arrive in their area and is just one small part of the 45,000 premises across Gwynedd that have seen improved broadband made available via the project.
"It seems tremendously appropriate that a community with the name of Nasareth gets superfast broadband at Christmastime! The hamlet has joined the ever growing list of rural communities in Wales that can now start accessing superfast broadband.

As the roll-out continues we will see more and more communities, like Nasareth, being able to realise the many benefits of receiving superfast broadband speeds.

For those households and businesses that can access superfast broadband, I would urge them to sign up with a service provider – why not make it your new year's resolution?

Ed Hunt, Superfast Cymru programme director
We have tried to confirm which premises in Nasareth have the service option and believe it will be those on cabinet 3 of the Penygroes exchange but cannot see WBC FTTP available for order yet, once visibility appears we will add it to the 1.9% of premises in Gwynedd that can order a FTTP service.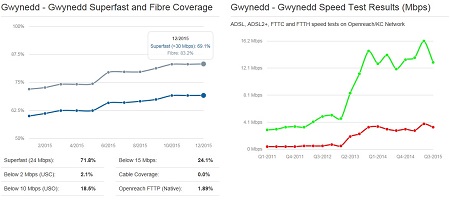 With superfast coverage at 24 Mbps or better of 71.8% (69.1% at 30 Mbps or better) this part of Wales is some way behind the overall target but the Welsh 96% fibre based target is a nation wide target, rather than a uniform target in each local authority. Fibre based services started to arrive in Q1 2013, hence the large jump in the average speed for the area which is easier to pin down as there are no Virgin Media cable services.
Comments
Post a comment
Login
Register