Virgin Media with FTTH for six villages in Leicestershire
Saturday, December 12, 2015 1:34 PM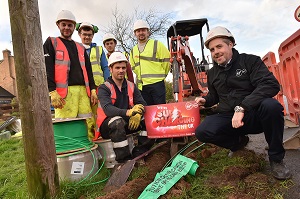 Project Lightning from Virgin Media that should see the cable providers footprint rise from just under 50% to around two thirds of UK premises has announced some news for six villages on the southern edge of Leicester that will actually be getting Fibre to the Home from the project.
Blaby, Countesthorpe and Enderby residents may find that some of them are actually able to order in these closing two weeks of 2015 and the other villages of Whetstone, Narborough and Cosby should all be able in early 2016. Not that this should be a surprise for those living in the area as the 100m a day covered by the trenching teams should be very obvious to anyone in the area. The roll-out is which utilising DOCSIS cable hardware inside peoples homes is actually a full Fibre to the Home roll-out, the optics utilising RFOG (Radio Frequency over Glass), so removing the old coax element but allowing Virgin Media to still use the same TiVo and cable modem hardware as in the rest of the UK. The standard set of product speeds of 50, 100 and 200 Mbps will be available at the usual pricing.
While many of the people in the area will have access to FTTC via the pyramid of providers serviced by Openreach there will be those for who this is their first superfast option and without the vagaries of wiring in the home causing problems.
In terms of coverage statistics for the area, we usually don't add new Virgin Media areas until we've seen the first live users, so there won't be any jump in the coverage figures for the area until early 2016.
We know some people say that basic superfast speeds of 24 or 30 Mbps are not enough, hence why we already track coverage at 50 Mbps and faster, and with Project Lightning cranking up the roll-out speed, figures like 62.01% of UK premises having the option of a 50 Mbps connection should rise, 49.83% Scotland, Wales 40.46%, Northern Ireland 38.59% (based on Openreach, KC and Virgin Media coverage, alt-nets like Gigaclear and Hyperoptic will be added in 2016 once the 90% superfast barrier is breached).
Comments
Post a comment
Login
Register