What next for Herefordshire and Gloucestershire?
Tuesday, December 8, 2015 10:59 AM
The behemoth that is the BT Group that some say are sucking up every pound of public money to subsidise its aging copper network has actually just gone and said no to bidding for the next phase of the Fastershire project.
Update 5pm BT has sent out a statement on the situation, which seems at odd with has been apparently been said by Herefordshire council.
"We are committed to taking fibre broadband to as many homes and businesses in Herefordshire and Gloucestershire as we can, and our existing BDUK project there is progressing well.

We are constantly exploring the options to extend coverage further, but there has been no formal public consultation on a potential contract extension." "

BT Statement on Fastershire
Fastershire is the BDUK project that has Herefordshire and Gloucestershire working together to improve superfast broadband coverage in the two counties, the current roll-out contract which was signed in 2012 aimed to reach 90% fibre based coverage by the end of 2016 (i.e. anything FTTC or FTTP counts, so superfast coverage will be lower) and there was meant to be a subsequent phase to this with another contract to extend coverage further. It is this extension that BT are saying they will not bid on according to information ISPreview has seen.
A contract for a later phase has already been won by Gigaclear which should see Gigabit FTTH delivered to over 6,000 properties. The refusal by BT means it is likely we may see more smaller bids like this and a wider technology mixture that may include fixed wireless.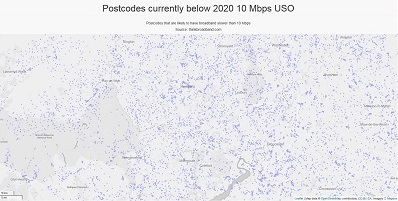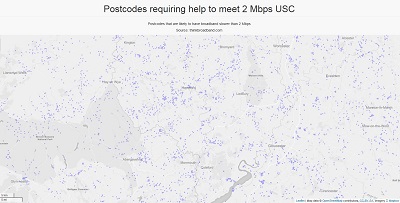 The two maps above show the state of play as of 5th December 2015, and therefore some of the postcodes shown that are under 2 Mbps and 10 Mbps will get helped by the existing roll-out and another set will also be covered by the Gigaclear project set in the Cotswolds. The picture in Herefordshire and Gloucestershire does not look as difficult as areas like Northern Ireland or the Highlands but simply seems to be suffering from a very low superfast coverage starting point for even the phase 1 contract i.e. commercial roll-outs appear to have largely ignored the two local authorities.
What no one knows precisely is why BT did not bid on the next round of tenders, there tender may not have been attractive enough or had too tight a timeframe. One of the reasons the council rejected a bid by BT in the Devon and Somerset area was the BT bid timeframe was too long and the council wanted it all done sooner for the same money.
The phase 1 BDUK contracts suffered from the lack of competition and rather than being a failure the fact that BT are not bidding should be seen as a good thing, since there is an opportunity for alternate operators and those making a case for the break of Openreach and BT to show what can be done and if all the armchair accountants are correct at a faster roll-out speed, with less public money than BT and much more future proof technology.
The difficultly is that with the existing phase 1 BT project progressing and another 6,000+ premises already handed to Gigaclear remaining premises are not in a nice compact area.
It should be noted that South Gloucestershire is actually part of the Wiltshire BDUK project so not included in any of the above problems.
Comments
Post a comment
Login
Register