How close are the superfast projects to UK goal of 90%?
Monday, December 7, 2015 9:11 AM
Last month saw Scotland hit its original 85% fibre based broadband goal and for those 1 in 6 premises in Scotland who have not seen any benefit yet there is still hope as we are seeing work continue. Northern Ireland still has clusters of premises that were too far from a cabinet to receive VDSL2 getting extra infill cabinets, England now a number of areas where native FTTP is rolling out to too.
The pace of roll-out in terms of cabinet numbers appears fairly stable still but the effect of each cabinet appears to be getting smaller as the footprint served by each new cabinet is smaller, which is something that will continue as the roll-outs do deeper into rural areas. The BDUK process is often accused of only focusing on peri-urban areas but we are seeing a real mixture of rural clusters of 50 to 100 premises benefit, larger villages and the classic estate on the edge of large urban areas.
One small but important change is revealed by the bottom 30 local authorities for coverage at 30 Mbps chart shown below, Stroud District council which is tenth from the bottom has just hit the 50% superfast coverage waypoint. Balancing the pace of roll-out against future proofing the roll-out is something that many opponents of the BDUK projects feel was got very wrong, but the continuing position of Kingston Upon Hull in the bottom 30 showcases what the various projects had focused on a FTTH heavy roll-out. The often overlooked side of the Openreach network architecture is that all the builds include the necessary fibre out to a point close to the active cabinets supplying VDSL2 currently so that extensions can be added to offer native FTTP or G.fast or fibre on demand (the v2 Gigabit version).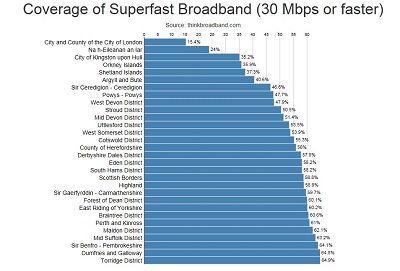 thinkbroadband calculation of Superfast, USC, USO and Fibre Broadband Coverage across the UK, its nations and regions for premises
In descending order of superfast coverage - figures 5th December 2015
(change since 7th November 2015)
Area
% fibre based
% superfast
24 Mbps or faster
% superfast
30 Mbps or faster
% cable
% Openreach FTTP
% Under 2 Mbps USC
% Under 10 Mbps USO
London
95.4%
93.3% (+0.2)
92.9%
66.1%
1.4%
0.3%
1.9%
East Midlands
95.3%
92.4% (+0.4)
91.8%
56.3%
0%
0.6%
3.3%
South East
96.1%
92.3% (+0.1)
91.5%
47.7%
0.69%
0.5%
3.2%
North East
94.3%
92.1% (+0.7)
91.7%
50.9%
0.03%
0.3%
2.8%
North West
94.7%
91.2% (+0.3)
90.5%
44.9%
0.35%
0.8%
4.4%
West Midlands
93.6%
90.5% (+0.1)
89.9%
60.6%
0.04%
0.5%
4.1%
England
92.9%
89.4%
88.6%
51.1%
1.09%
0.6%
4.8%
United Kingdom
92.1%
88.2%
87.4%
48.5%
0.93%
0.8%
5.6%
Yorkshire and Humber
87.7%
84.1% (+0.2)
83.3%
44.8%
2.87% (KC Lightstream)
0.8%
7.7%
Wales
89%
83.8% (+0.4)
82.5%
28.5%
0.23%
0.9%
9.4%
South West
89.2%
83.5% (+0.5)
82.3%
39.7%
2.47%
1.1%
8.3%
Scotland
85.6%
81.6% (+0.5)
80.9%
39%
<0.01%
1.2%
9.7%
Northern Ireland
94.8%
77.6% (+0.3)
76%
26.7%
0.06%
7.4%
14.3%
Our previous tables have not included England or the UK, but as the Westminster target of 90% coverage deadline is nearing it seemed appropriate to add them, and there is still a slim chance that England will hit 90% coverage at speeds of over 24 Mbps before Big Ben signals the start of a New Year, but for the UK it is looking more likely to happen in mid to late February 2016. Of course this means everyone can accuse those in charge of breaking promises etc, but in almost every other sphere of infrastructure a few months late would be considered a great success, if one wanted to be uber political one can dig out the promises of 90% by the General Election in 2015 at which point the defence that the six month delay from EU State Aid paperwork will get used.
One often overlooked aspect and for those with very rural slow ADSL complaining that FTTC has arrived for some premises but not theirs is that WBC ADSL2+ is being rolled out to more exchanges (including some without LLU, do note that not every exchange offering FTTC has WBC ADSL2+ installed) and while on very long lines of 6km or longer the sync speeds will be very much the same, on shorter loops there can be significant download speeds improvements, but almost everyone will benefit from the much improved IP Profile and faster upload speeds. The backhaul network for WBC based connections is also generally much better the old IPStream one, which can often mean less peak time congestion too.
Comments
Post a comment
Login
Register