Short term fix of satellite broadband for USC is go
Sunday, December 6, 2015 11:45 AM
It appears the Universal Service Commitment Satellite Broadband scheme is to form part of a Christmas giveaway to ensure that the coverage at 2 Mbps and faster USC commitment by the end of 2015 goal is met. A subsidy of £350 is to be made available to homes and businesses who get under 2 Mbps now, the scheme we believe will be ran by local authorities with them in control of who does and does not get a voucher.
The up to £350 is only to cover the broadband hardware and installation of the satellite dish, and while monthly plans for satellite broadband do start at around £20 to £25 per month these are usually only for around 10GB of data usage. For the basic tasks of online banking, sending and receiving email and official paperwork satellite is fine, and while people do manage VoIP, video streaming and Skype across satellite connections the data usage can climb rapidly meaning people are hit by fair usage policies or having to buy a more expensive package.
If local authorities are left in charge of the vouchers it is likely that we may see some people having trouble getting vouchers i.e. we have heard some councils say that fixed wireless covers an area and that is why the superfast projects are not going there when in reality someone has tried to order a fixed wireless service buy geography (e.g. hills, trees, buildings) may mean a usable signal is possible.
While the BDUK gap funding and commercial roll-outs may be considered a failure by those who have missed out so far, things are a lot better than a few years ago, and as things stand on 5th December 2015 the 30 worst constituencies in terms of premises below the 2 Mbps USC limit can be seen below.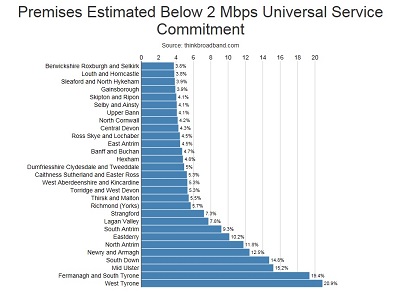 There is a bit of a political battle raging and while Labour had its USC target of 2 Mbps for all by 2012, given the timescale of under 18 months they had if they had won the 2010 General Election the only solution would have been a much larger satellite subsidy scheme.
Across the UK the number who might be chasing the subsidy is around 250,000 to 350,000 (our tracking states 0.8%) and the continuing superfast roll-outs should reduce this further and though we can foresee more complaints from people who feel they should not have to pay the full fibre premium price to end up with something in the 2 to 10 Mbps region, which while a lot better than their existing intermittent sub 1 Mbps ADSL connection.
Once some official detail on the scheme from DCMS is available we will take a look and provide the appropriate links. The big question now is how soon will the scheme be able to scale up, and how much installation capacity do the satellite operators have.
Comments
Post a comment
Login
Register