Is the UK really ready for an online only mainstream TV channel?
Monday, November 30, 2015 1:18 PM
The decision has been made and the timeline is now known, BBC Three will effectively be an online-only TV channel from February 2016. The big question mark is how many of the target audience for the channel will be forced to miss out because their broadband is not up to scratch?
Our speed test gives us a unique idea of what people have actually purchased and the experience they are getting from their broadband. It is this difference between what is available to people and what they decide to buy along with what the providers think they deliver to people that will be critical to whether BBC Three thrives or shrivels when online only, in theory the demographic of its audience is the one most likely to watch online, but if your broadband is too slow or you don't know about a new programme you won't be watching it.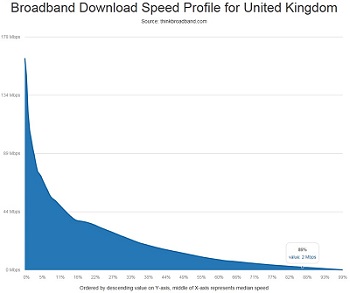 The speed profile above plots the tests we saw in the third quarter of 2015 and shows that 14% were getting speed test results below 2 Mbps (2 Mbps if delivered reliably should sustain a SD video stream). This improves by 1 or 2% if you eliminate those testing on tablets and mobiles. The small notches in the curve are usually linked to the maximum speeds of the various products but as we have shown when looking at peak time speeds while fixed connection speed services like Virgin Media cable don't suffer from distance drop off peak time performance can cause problems, hence why we see some people (and even industry figures) who say that they need a 100 Mbps connection to stream HD reliably.
The BBC has contributed to the phase 1 superfast broadband roll-out via the remains of the Digital Switchover fund forming a core chunk of the Government money used, but there is still a long way to go in terms of take-up of faster broadband options, and it is possible that the switch of BBC Three may help to wake people up to the availability of faster broadband options.
The debate over whether the money spent on improving UK broadband was a waste is a passionate one, but looking at the change in speeds over the last few years, it is clear that things have changed dramatically. Our availability checker includes analysis of the speed test results for the various parts of the UK and allows you to see when services like FTTC arrived in an area (or other changes like Virgin Media speed updates) and the effect this has had on average speeds.
Third Quarter download speeds for last six years
Date
Bottom 10%
Median
Mean
Top 10%
Q3 2009
0.4 Mbps
2.6 Mbps
3.8 Mbps
8.9 Mbps
Q3 2010
0.4 Mbps
3 Mbps
4.3 Mbps
9.4 Mbps
Q3 2011
0.6 Mbps
4.1 Mbps
6.4 Mbps
14.4 Mbps
Q3 2012
0.8 Mbps
6 Mbps
11.2 Mbps
29.9 Mbps
Q3 2013
1.3 Mbps
8.4 Mbps
17 Mbps
43.5 Mbps
Q3 2014
1.8 Mbps
12.3 Mbps
22.8 Mbps
56.9 Mbps
Q3 2015
1.7 Mbps
12.9 Mbps
21.6 Mbps
50.9 Mbps
Unfortunately there are still those with the same speeds as back in 2009, one only has to look at social media everything improving speeds are mentioned but all the data points to things improving just not in a 100% uniform pattern with the short time scales people want.
Comments
Post a comment
Login
Register