UFO watch finds its first Sky connection in York
Thursday, November 5, 2015 7:14 PM
The CityFibre, Sky and TalkTalk joint venture has been underway for a while now and while still only open to trial users we have now seen our first speedtest.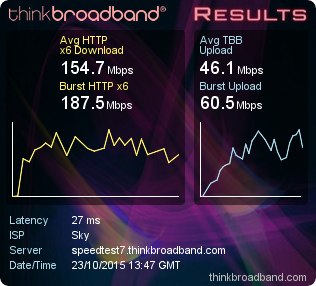 While the service is Gigabit based people may think the result above is slow, but the device used for the test was an iPhone 6 so the speed limitations of Wi-Fi are a big factor but still its more than double the speeds possible over VDSL2 currently.
The postcode where the test was carried out appears to have Virgin Media cable services available to it, but no Openreach superfast services. Some people have been worried the router used by Sky would not be up to the task after the relatively poor Wi-Fi offerings from the Sky Hub but the speed test featured while not perfect shows what is possible and we look forward to the first tests over Gigabit Ethernet.
Comments
Post a comment
Login
Register