More superfast broadband for Scotland
Tuesday, October 27, 2015 10:57 AM
The Digital Scotland project which has some £410m of funding has announced the next wave of some 20,000 premises that should benefit from the project and the project is roughly halfway to meeting its intervention target of helping 750,000 premises which has a deadline of March 2018.
Looking at how things have progressed in 2015 so far, coverage has gone from 70.4% at speeds of 30 Mbps or faster at the start of 2015 to 79.7% in October 2015. The Scottish Broadband project splits the country into two parts the Highlands and Islands which had an original goal of 84% fibre based and the Rest of Scotland with 96% fibre based, the aggregate coverage across Scotland is 84.4% (this is higher than superfast coverage as no speed filter is applied).
The areas set to benefit with the first of them going live in Spring 2016 are: Aberfoyle, Auchterhouse, Bridge Of Dun, Broughton, Cairnie, Cortachy, Dirleton, Fairlie, Finavon, Canonbie, Glenluce, Greengairs, Kinrossie, Kirkoswald, Langbank, Linlithgow, Moscow, Muir Of Fowlis, Muckhart, New Luce, Oxton, Parkgate, Philpstoun, Reston, Roxburgh, Skirling, Stichill, Temple, Tillicoultry, Torranyard, Turnberry, Tyndrum, Uplawmoor, Westruther, West Calder, West Kilbride, Whitsome, Winchburgh.
The areas Alva, Grangemouth, Livingston, Midcalder and Cumbernauld are set to get additional roll-out too. While we are sure everyone would love to have a much better idea of a go-live date for each cabinet area, these are always subject to the vagaries of the weather and with Winter approaching one cannot be sure of how many good days will be available for fibre splicing or whether engineering staff are diverted to help resolve broken lines after a bad storm.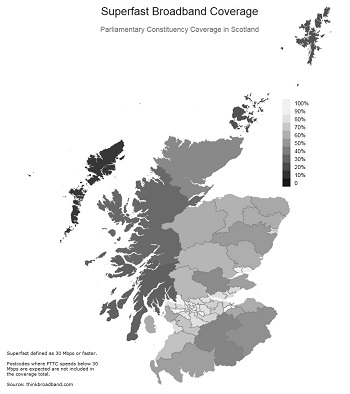 (click to view larger version)
The map above shows what we believe the coverage in Scotland is at superfast broadband speeds (30 Mbps and faster) when plotted by constituency, as with all heat maps the coverage is not uniform and with broadband will often be concentrated in the larger population areas of each constituency. This is why as well as providing the overall statistics our availability checker lets you drill down to the postcode level.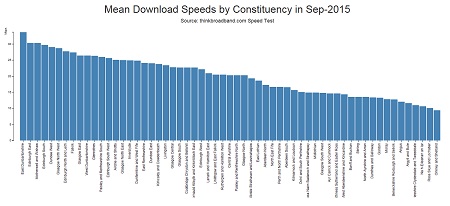 (click to view larger version)
The variation is broadband speeds observed via our speed test broadly matches the variations in coverage across Scotland and hopefully as the Digital Scotland project continues to roll-out to more premises we will see faster broadband available and thus better observed speeds. The observed speeds will never match the best calculations of what is available though as we are seeing many people elect for cheaper up to 38 Mbps packages rather than the up to 76 Mbps service even in areas where faster speeds are possible. Maybe in five years we might see people posting to complain they cannot sustain four UHD video streams even though they get a speed test of 75 Mbps, but for millions its seems they just want anything that is better than what they have now even if that is just a jump from 1.5 Mbps to 12 Mbps. We have even seen some complaints from areas where native FTTP (with its additional 200 Mbps and 300 Mbps options) is planned as other parts of an exchange have gone live with FTTC and the extra wait for FTTP is deemed too long.
Comments
Post a comment
Login
Register