Broadband improvements starting in Telford and Wrekin
Monday, October 26, 2015 2:58 PM
Telford and Wrekin is an area that was considered fairly well served by superfast broadband when the original BDUK projects were being planned but very few things stand still and the pressure grew to the extent that the local authority signed a contract with BT to improve coverage across the area, and is set to deliver fibre based broadband to another 9,300 premises.

(click to view larger version)
The flat lines in the above chart show that once the commercial roll-outs reached the end that things have pretty much stagnated in the area, and if the extra 9,300 premises is delivered as contracted there is no reason to doubt that 100% fibre based coverage with 98% at superfast speeds will not be possible.
The first areas to benefit are expected to be live over the next few months and already roadworks are starting to prepare for the roll-out (for example duct de-silting is set to take place on 28th to 30 October at the junction of Southall Road and Old Vicarage Road in Dawley).
People can keep an eye on how the coverage is improving using our availability checker which will also track any additional coverage that appears via the Virgin Media Project Lightning. The target is to raise superfast broadband coverage from the current 87.4% to 98%, and in doing so this will impact on the slow speed end for broadband coverage where 0.4% are under 2 Mbps, 4.4% under 5 Mbps and 8.9% under 15 Mbps.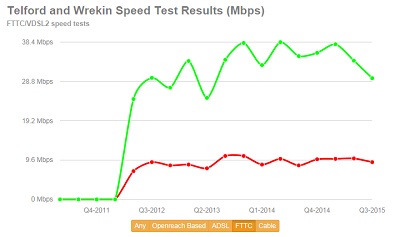 (click to view larger version)
The arrival of commercial FTTC in Q1 2012 can be seen on our checker where we have just added ADSL and FTTC speed filters so people can get a better idea of what is being delivered rather than just the PR figures.
Comments
Post a comment
Login
Register