Virgin Media pilots Smart Wi-Fi pavement in Chesham
Thursday, October 15, 2015 9:37 AM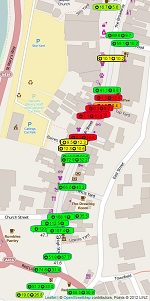 (click to view larger version)
Free public Wi-Fi is now live along Chesham High Street and parts of Lowndes Park courtesy of Virgin Media in co-operation with Chesham District Council. The scheme differs from other public Wi-Fi areas in that it is the first UK pilot of Wi-Fi hidden in the pavement and has a maximum speed of 166 Mbps. So of course we had to wander over on the evening of the 14th October to put the network through its paces, and the map to the left shows the speeds we got at various points on the high street with the fastest average of 120.9 Mbps at the southern end of the High Street by the clock tower, and this was not with the mobile phone held over a manhole, we got similar speeds at several points.
The network is available to all 21,000 residents of Chesham and unlike many other schemes it has a very simple login page and avoids the troublesome codes that some Wi-Fi hot-spots insist on sending to your mobile. We did find that download speeds dropped very low around the Costa in the High Street, which may have been down to interference from other networks, but even including those the average download speed in some 33 tests was 46.2 Mbps and an impressive 27 Mbps upload, excluding the slow tests the mean rises to 54.3 Mbps download and 29 Mbps upload.
"Not only is this the first time we've built metropolitan WiFi directly from our street cabinets, it is also the UK's first deployment of a WiFi connected pavement. It is literally public WiFi under your feet. We want to build more networks like this across the UK and encourage more forward thinking councils just like Chesham to get in touch."

Gregor McNeil, Managing Director of Consumer at Virgin Media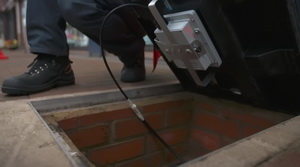 (click to view larger version)
Obviously if all 21,000 residents cram into the High Street at once speeds are going to slow down, and some of the tests we did shot up in speed part way through suggesting others in bars and restaurants may already have been using the free service.
Comments
Post a comment
Login
Register