Airport Wi-Fi Testing Results - Sep 2015
Monday, October 12, 2015 1:28 PM
Public Wi-fi is becoming ubiquitous across coffee shops, the transport network and many other locations across the globe. This is particularly useful for those looking to catch up on a bit of work on their laptop or tablet, especially tourists who might not be able to use 3G/4G data at reasonable rates due to roaming costs often being particularly high.
We have been testing airport wi-fi for some time both in the UK and across the world, but we decided to carry out specific comparative tests across the five major London airports within a shorter period to see how they perform.
So between the end of August and early September, we visited Gatwick, Heathrow, Luton, Stanstead and London City airports to carry out tests on their free wi-fi service.
We found that Stansted provided the fastest service by far with peak download speeds of 8.1Mbps, although it only provided one hour of free wi-fi which is pretty poor given how long passengers have to be at airports. Gatwick was the worst at a mere 0.5Mbps. Luton performed better at 4.5Mbps; both Gatwick and Luton provide 90 mins free wi-fi. Heathrow performed quite poorly on its free wi-fi service at 1Mbps however there is no longer a time limit on how long you can use it, which is a pretty good deal. A few quid will buy you access to Premium Wi-fi for a few hours at around 5Mbps.
London City Airport appear to be presenting the best proposition with both 4Mbps download speeds but also no limits on its wi-fi service (at least that we could see) in terms of length of use. This is somewhat ironic because London City resembles more of a bus terminal than an airport as it's geared for people to travel through, rather than spend much time inside.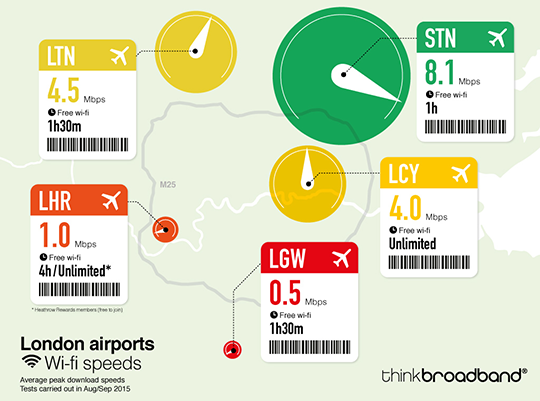 (click to view larger version)
We have been testing airport Wi-Fi across the world with various devices and some airports manage speeds over 50Mbps on a fairly consistent basis, although we have seen some significantly faster results too. Above this point, we have found the choice of device starts affecting results as antennae on laptops can for example perform better than those on smaller mobile phones even when using the same technology. However at the London speeds, most devices would be able to max out the connections and all our testing was carried out both across a phone and laptop to be certain of the speed limits.
Premium Wi-fi has become something airports push for additional revenue, so there is lttle incentive in improving the free services. At Gatwick, Heathrow and Stanstead, the rate is between £8-9/day, not exactly breaking the bank on a long transfer, but you already pay for the airport's use in the price of your plane ticket.
Upload speeds varied and sometimes performed better, although Stanstead's upload speed was similar to Luton and London City and not ahead as it was with downloads. Registration systems varied across the airports from no registration being required through to needing to watch an advert prior to use.
We are encouraged to check in two to three hours before departure in many cases and with unpredictable road traffic and connecting flights, there plenty of reasons for passengers to be spending hours at the airport, and free Wi-Fi is a great way to pass time or finish work. For foreign visitors, who may not have the option of 4G mobile services due to roaming costs, this can be particularly important and it gives them a very poor first impression of UK digital infrastructure.
We have seen both from the Virgin Media Wi-Fi rollout on the London Underground and airports around Europe that fast public Wi-Fi is possible. It's just a question of whether airports consider Wi-Fi a service to passengers who are already paying to use the Airport, or a revenue stream for the few passengers willing to pay for a premium service.
We'll keep an eye on these speeds and report back next year. If you're a frequent traveller and you're interested in helping us test airport wi-fi, drop us an e-mail on [email protected].
Update 13/10/15 11:45 :: Heathrow Airport have now confirmed that their free Wi-fi service is no longer limited to 4 hours, so registration for Heathrow Rewards is no longer necessary to benefit from unlimited free Wi-Fi.
Comments
Post a comment
Login
Register