£1 added to Sky voice line rental
Monday, October 5, 2015 10:22 AM
Sky announced quietly over the weekend a voice line rental increase raising the cost of voice line to £17.40 per month for customers. Existing customers affected by the increase should get the notification letters soon and the usual option to exit their contract early be provided, though as Sky is one of the last major providers to increase its prices this year they may not like what they see elsewhere. Of course as always there are smaller providers offering line rental at a lower price, but this is often balanced out by the cost of the broadband or other factors.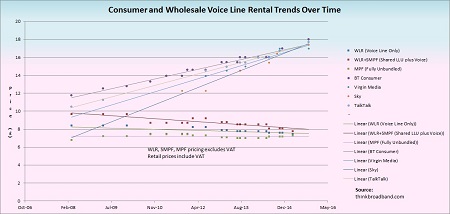 Click image for full size version
While the big spotlight is on the break-up of Openreach for the majority of consumers the much bigger question is why is the retail price of voice line rental continuing to diverge further and further away from what Openreach actually charge the providers.
Virgin Media is the last of the big four providers and with its voice service totally separate from any Openreach infrastructure they should be able trying to win customers by maintaining the lowest voice line rental prices.
2015 as well as following the year on year pattern for line rental increases has seen Sky and TalkTalk increase their ADSL2+ package pricing too, though for those willing to switch providers the value of deals for switching has also improved and this may explain why Ofcom is not acting to investigate what some end-users feel is a rip-off, i.e. Ofcom wants a market where broadband switching is encouraged.
2015 has also seen some of the call bundles that came with voice line rental get smaller (e.g. no inclusive calls or weekend only calls rather than evening and weekend) and call/connection charges rise. This package erosion are probably all side effects of providers trying to keep the ARPU (Average Revenue Per Unit) stable and with less chargeable voice calls made each year the profit from calls is gradually being shifted onto the basic line rental service.
There is a data-only line option on its way for the Openreach FTTC product range, but still no sign of pricing or a launch date. This product when launched will not provide a copper connection supporting voice back to the exchange, and is called Single Order GEA with the provider paying just a single price and is the closest thing to naked DSL that has existed in the UK.
Comments
Post a comment
Login
Register