Milestones broken as Wales improves superfast coverage
Wednesday, September 30, 2015 12:38 PM
The Welsh Governments Deputy Minister for Skills and Technology has announced one important milestone for the SuperfastCymru project and that is that the project has made superfast available to 504,352 premises since the project started.
"That's over half a million premises in Wales which would otherwise not have access to faster broadband without the intervention of Superfast Cymru.

The way we do business today and the way we live our lives means fast and reliable internet connections are vital.

That's why the Welsh Government has invested in Superfast Cymru, ensuring Wales is one of the most connected countries in Europe.

This is a great day for Superfast Cymru, but the work is far from over. It is a challenging programme and BT engineers are continuing to work day in day out to bring superfast broadband to communities across Wales.

Julie James, Deputy Minister for Skills and Technology
While the Welsh Government is talking of 79% superfast coverage due to the time it takes to sign-off on these releases coverage has continued to improve and our current figures show Wales 82% having access to a 24 Mbps or faster broadband service (80.7% at 30 Mbps) and full FTTH availability slowly climbing at 0.19% of premises. It may be worth remembering before complaining about lack of progress that in January 2015 coverage was down at 69% with access to 30 Mbps or faster.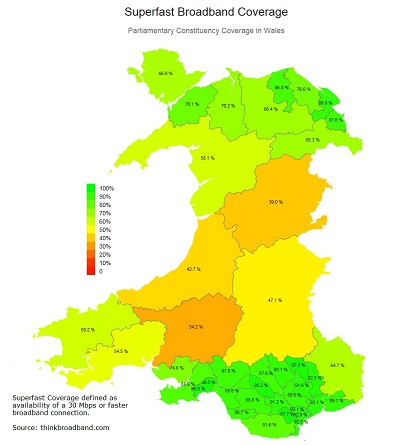 The map above showing availability at 30 Mbps or faster by parliamentary constituency shows the disparity across the country and while there is going to be a wave of negative reaction to any positive coverage on how the project is progressing.
The projects current target is 96% with broadband access via FTTC or FTTH (no speed qualifier applied) and the coverage figure for this measure as of 29th September was 87%.
The other milestone passed is that by our figures over 1 million premises in Wales have access to superfast broadband at speeds over 30 Mbps, with another 200,000 or so still waiting for the project to deliver which means lots more work especially if the aim of 80,000 FTTH premises is to be met.
Comments
Post a comment
Login
Register