Virgin Media opts for 200 Mbps top speed for now
Tuesday, September 29, 2015 10:03 AM
We have been spotting Virgin Media cable broadband 200 Mbps and 300 Mbps speed tests for some time, but the news that free upgrades starting October 1st with a maximum speed of 200 Mbps may disappoint some who have their sights set on 300 Mbps. The new fact is that the new speeds will be grouped and sold with the marketing phrase of Vivid referring to the 100 Mbps and 200 Mbps packages.
Virgin Media customers will be given the choice of upgrading for free from 50 Mbps to 70 Mbps, 100 Mbps to 150 Mbps and 152 Mbps to 200 Mbps. No changes are expected on the upload side and our understanding is that the 300 Mbps speed tier may still appear but not until some point in 2016. The 200 Mbps speed tests should look something like this.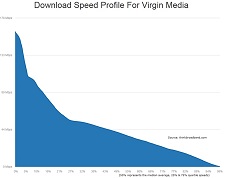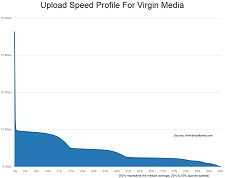 The two speed profile charts on the left show the spread of users speeds as seen by our speed test in August 2015, so in the next few months we should start to see the profile change as the new speed points increase in popularity, 90% of people should have had the upgrade option by the end of 2015 with the rest by June 2016. It is not totally obvious but on the right hand side of the upload profile you can see speed bumps from people who have previously opted out of the fairly regular free upgrades. The large spike on the left hand side of the upload chart is down to more symmetric products such as the London Underground Wi-Fi and other public Wi-Fi ran by Virgin and also includes some business connections and RFOG (full fat FTTH) connections that are being toyed with.
The free upgrades to some extent counter balance the annual price rises and also by offering speeds that should almost always beat FTTC based connections winning customers in new Project Lightning areas should become easier. Though given FTTC has competed alongside Virgin Media for some five years or more it may not always be an easy sale.
Comments
Post a comment
Login
Register