Questions asked about Swindon 4G roll-out
Monday, September 28, 2015 1:24 PM
The outcome of the Swindon 4G fixed wireless broadband roll-out is a test case that pre-dates the DCMS innovation projects for the final 5%, but with its aim of 99.4% superfast coverage while not as rural an area as many consider for the final 5% many of the issues and concerns will be similar.
ISPreview picked up on some local press coverage of complaints from locals and elected officials that they see the £2m project as a waste of money and also raising objections to the location of 15 foot tall masts near residential areas.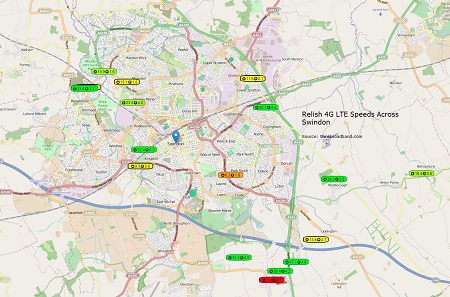 The map above shows what we know about Relish broadband speeds in Swindon and it is a very variable range of speeds, some good speeds are appearing but you get a sense of the scale of the roll-out and live customers when you compare the same area filled in with speed tests from the major fixed line providers. We also looked at 4G mobile speed tests in the area and there is not much difference at all and this may be partly why people are complaining about yet more masts, beyond any health concerns that some people may have. The gap in fixed line speed tests in the South of Swindon in the East Wichel area is because IFNL have their FTTH network in this part of the town, and we have only just added IFNL ISP detection and coverage data to our systems.
The presence of an alt-net FTTH provider in the town makes the choice of a fixed 4G service part paid for with public money even more odd, we know that coverage could be better in Swindon with current fixed line superfast coverage at 82.8% (24 Mbps and faster), 75.2% ultrafast (100 Mbps or faster) with 0.5% of premises under 2 Mbps. The Relish roll-out is a the third attempt to bring ubiquitous wireless to the town, a failed Wi-Fi scheme cost the council money and a previous version of Relish seemed to fizzle out.
The 4G service from Relish in Swindon does appear to be helping some of those in the areas outside the main footprint, but just as with the Openreach FTTC roll-out there are questions about pace of the roll-out, availability, speed of service and value for taxpayer money. Especially given that mobile providers seem to be able to match or sometimes exceed the speeds Relish are delivering.
Comments
Post a comment
Login
Register