Poll Results: Should Openreach be nationalised?
Thursday, September 24, 2015 12:09 PM
Lots of our visitors will be old enough to remember when the BT Group was the GPO and one of a number of Government owned industries that in the last three decades have been sold off into private hands, so with the current cries from campaigners and chunks of the broadband industry for Openreach to be split away from the BT Group completely and with nationalisation of utilities back on the Labour Party agenda we thought we would ask our visitors their opinion and the answer is: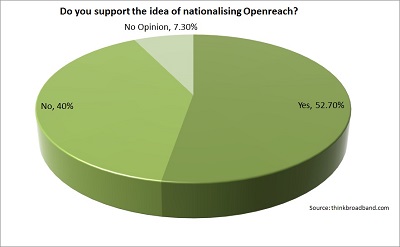 Nationalisation is a very different proposition to the hiving off of Openreach which is something we asked back in July 2015. Nationalisation is something that none of the major operators have called for and there is no evidence Ofcom is considering it and with a Conservative Government it is never likely to happen, unless Openreach became such a disaster that it delivered nothing from the BDUK process. The new Labour leadership and a 2020 General Election does raise the possibility though.
The voting was pretty consistent over the 7 days that the poll ran and had over 1,400 people vote, the fact that even after the first few hours the almost even split in the results in support of nationalisation suggests that this was real people voting as opposed to one political campaigner trying to make a point.
Of course nationalisation while an interesting avenue does not come with automatic guarantees on things improving and the same applies to creating Openreach as its own FTSE 100 company which is why we asked the second question.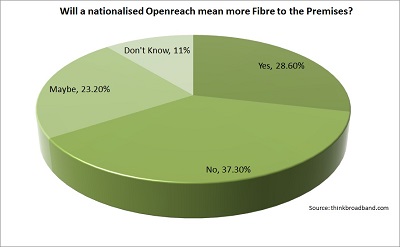 This question on whether nationalisation would create more FTTP coverage was asked because if going to the effort of nationalising the local loop once more it makes no sense to continue with the incremental improvements unless the deadline for improved coverage/speed is pretty so tight that this is all that is possible. The fact that only 28% believe a Government owned Openreach would deliver more FTTP suggests maybe some votes from the first question may not just be linked to giving the UK faster and faster broadband.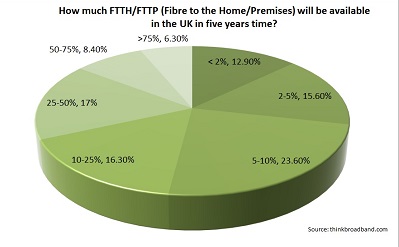 Gazing into the broadband crystal ball is always dangerous and the final question did precisely that. The UK currently has native FTTP from Openreach available to 0.82% of the nation, with the contribution from Hyperoptic, KC, Gigaclear, IFNL, B4RN and others we are at over 1% availability so the pessimists voted for less than 2% in five years time. In theory if the Sky/TalkTalk/CityFibre venture delivers then we should be in the 25% to 50% range. Our expectation at this time is that we will actually be in the 10 to 25% range, an often missed contribution to this total is that while the majority of the Virgin Media Project Lightning expansion will be DOCSIS cable based, they are using some FTTP.
Comments
Post a comment
Login
Register