More signs of satellite broadband use to meet USC target
Wednesday, September 16, 2015 9:44 AM
The 2 Mbps Universal Service Commitment deadline is getting closer every week and The Telegraph carries a few more snippets on the USC and some potentially worrying comments.
Most people had already guessed that satellite broadband would feature heavily, the ability to get connected by someone in a van turning up and fitting a dish in an hour or so and it working at almost every address in the UK are the big advantages.
Satellite broadband has been available for a good number of years, but people are often reluctant to subscribe due to the hardware and activation costs which can be £100 to £250 and the USC voucher scheme appears set to remove the hurdle of set-up costs if you buy from one of four approved suppliers. This will still leave people having to pick a package which can range from a basic £15 for 2GB of data through to £90 for a 100GB data allowance (a number of packages do have unlimited overnight usage).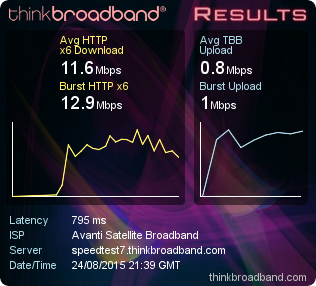 Latency is the major downside and our speed test shows the effect nicely in the dead zone on the above graph before the download traffic starts to arrive at the PC and with increasingly interactive websites that rely on small but frequent data requests some sites may behave in a less than optimal fashion.
Where we are getting a little worried is the line "Under BT and the Government's plans, around 5pc of premises will never get a terrestrial superfast connection because they are too remote for a fibre optic upgrade to deliver a financial return", this suggests that the Government has written off the FTTH pilots from the final 5% projects or it is the original writer just trying to say that BT led fibre roll-outs are much difficult to justify in the more rural locations due to BT wanting ever larger gap-funding amounts.
If the satellite vouchers were actually simple a time delay mechanism with a guarantee that services like 4G, fixed wireless, FTTH, VDSL or G.fast would arrive in the next three years the sense of connection of last resort would not be so bad. The UK Government though is simply following the lead of the EU that declared some time ago that all Europe had access to basic broadband because of satellite broadband coverage.
Comments
Post a comment
Login
Register