BT announces some detail for extra fibre based broadband coverage in London
Friday, September 11, 2015 2:23 PM
BT and Openreach have announced some details on the scale of new fibre based broadband roll-outs in various London Boroughs, and this will involve a mixture of more traditional VDSL2 from cabinets in the street, smaller FTTrN (Fibre to the remote Node) deployments and some fibre to the basement with xDSL used to transport the connection around a building over the existing copper phone network. The extra coverage is set to be delivered over the next two years.
Bexley the new roll-out will add another 19,106 premises to the existing fibre based coverage in the borough.
Barking and Dagenham will gain another 2,187 premises covered.
Croydon another 9,368 premises.
Kensington and Chelsea another 20,213 premises
Greenwich 10,290 premises
Barnet 7,779 premises
Tech City area an extra 32,000 premises
This extra coverage is part of the £50 million extra investment in superfast broadband previously promised and when combined with the Project Lightning expansion by Virgin Media is likely to mean that coverage at speeds of 24 Mbps and faster will exceed 95% across the capital, as of 10th September our own data shows the is 92.7% at 24 Mbps or faster (92.3% at 30 Mbps or faster), though this can be a bit patchy hence all the complaints around Tech City where the large White Collar Factory office block is still under construction.
Extra coverage of the GEA products from Openreach will be welcomed by those living in the area and should hopefully see some of the Exchange Only lines that still only have ADSL2+ as the fastest option getting extra speed options. For the business sector how much use the FTTC based products will be depends on what your core business is, so that edit suite specialising in cutting together 4K footage is still going to want a symmetric Gigabit leased line service with its attendant pricing from BT or one of its many London competitors, but smaller shops and offices with a handful of stuff where watching football or Wimbledon from their desk is the big usage spike for the year will find the up to 80/20 product range from FTTC perfectly fine.
Tech City commands a great deal of press coverage and it is a conundrum since there has been nothing stopping office blocks from installing leased lines and sub leasing them to offices as an added extra or including a basic level of service in the office rent. Visiting the area it is a real mixture of the hipster/unicorn cafe culture and the ball and chain office of yesterday, in terms of public Wi-Fi the absolute fastest option is the London Tube Wi-Fi which is happy providing speeds of 42 Mbps down and 65 Mbps up, much less impressive is the BT Wi-Fi in one of the numerous coffee shops, which has all the hallmarks of being an ADSL2+ line and with plenty of people using it.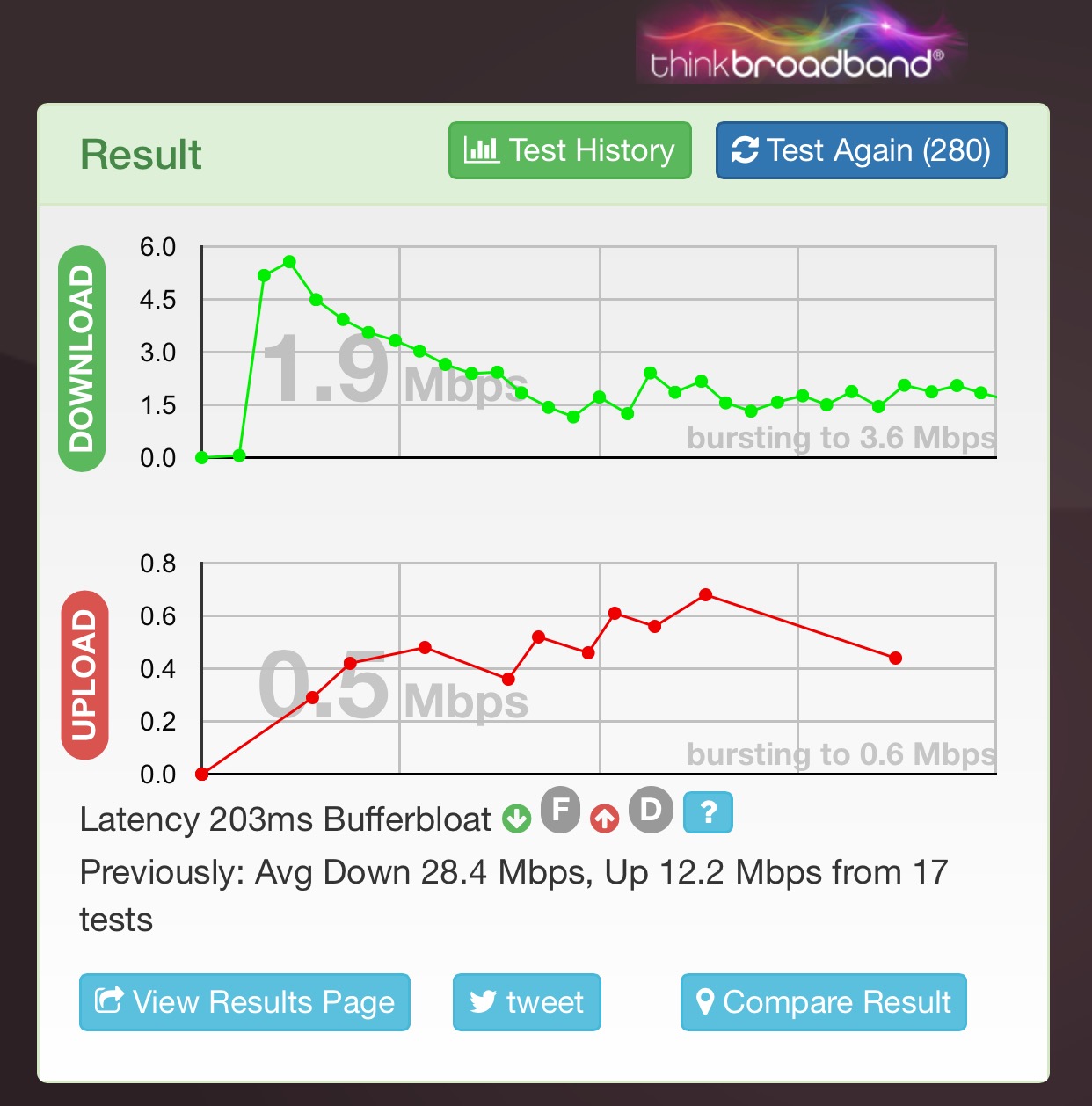 Of course fixed line broadband is not the only option, and 4G does provide an option though Vodafone 4G speeds around the Old Street roundabout do seem to be less than stellar at 10 Mbps down and 4.8 Mbps up, EE 4G seems to fare a lot better at 29 Mbps down and 8.5 Mbps up.
To give people an idea of the scale of the roll-outs already underway, this extra coverage in London represents around two weeks of the coverage currently being delivered under the BDUK programme and may go some way to reducing the complaints from Londoners who feel that they are still stuck with Internet from 2006.
Comments
Post a comment
Login
Register