Just how big is the rural urban broadband divide in England?
Thursday, September 10, 2015 11:37 AM
The rural/urban divide has always been a contentious one no matter what the core subject being debated and with 1 in 5 in the most rural parts of England still only able to access fixed line broadband at under 15 Mbps speeds it is no surprise that politicians mailbags are stretching as people write to complain they are not part of the 90% superfast picture. We would love to have included Scotland, Wales and Northern Ireland but we did not find any readily available data fitting the many councils into the standard classification system, you can track your local authorities coverage still using labs.thinkbroadband.com/local.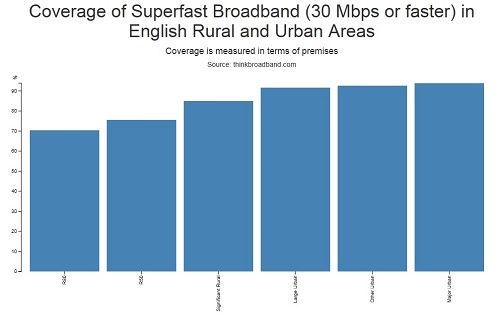 The above chart was generated based on the data we held on 6th September 2015, and can be updated as we update our coverage data each week and if people express enough interest we can add this as another monthly stat we release.
The numbers not meeting the Universal Service Commitment look amazingly low compared to the level of speed complaints you find online, but when you consider 1.9% in the most rural category (R80) equates to 27,500 premises who are feeling ever more split away from modern society you can see why this statistically small group have such a large voice and it is growing as more services make the assumption everyone has fast Internet access 24/7.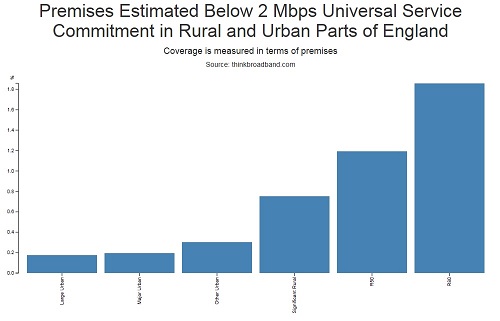 The Government is still working towards a voucher scheme to pay for the install of a satellite broadband service to be announced before the end of 2015 and as the FTTC roll-outs (with some tactical FTTP) continue it is looking more like the numbers needing to subscribe should not swamp satellite capacity, though there will be lots of questions over usage allowances, peak time performance and monthly costs.
thinkbroadband calculation of Superfast, USC, FTTP and Ultrafast Broadband Coverage across English rural and urban areas
figures as of 6th September 2015
Area
% superfast
24 Mbps or faster
% superfast
30 Mbps or faster
% cable
Ultrafast
Over 100 Mbps
Includes altnets

% Openreach/KC FTTP
% Under 2 Mbps USC
% Under 15 Mbps
Major Urban
94.1%
93.9%
72.2%
73.05%
0.68%
0.2%
3%
Large Urban
91.9%
91.5%
68.5%
69.47%
0.99%
0.2%
5.6%
Other Urban
93.1%
92.6%
62.8%
63.3%
0.69%
0.3%
4.3%
Significant Rural
86%
85%
38.9%
39.25%
0.29%
0.8%
9.6%
Rural-50
77.1%
75.6%
18.7%
19.49%
0.59%
1.2%
16.3%
Rural-80
72.2%
70.3%
9.3%
13.37%
3.34%
1.9%
20.4%
(Only the ultrafast column in this table includes the contribution from the altnets to the overall picture.)
What surprised even us is that the area of the UK with the highest proportion of FTTP (and this is native Openreach/KC FTTP) is the most rural segment and by a large margin. The ultrafast with altnet column is one we do not feature regularly, but will be a regular feature in 2016, it represents premises able to order a 100 Mbps or faster connection, so includes services like Openreach FTTP, KC FTTP, Gigaclear, Hyperoptic, B4RN and the dominant Virgin Media.
As many readers will not be familiar with these rural/urban classifications, a quick explanation follows:
Major urban (MU)—districts with either 100,000 people or 50 per cent of their population living in urban areas with a population of more than 750,000 (e.g. Barnet London Borough).
Large urban (LU)—districts with either 50,000 people or 50 per cent of their population living in one of 17 urban areas with a population between 250,000 and 750,000 (e.g. Blackpool).
Other urban (OU)—districts with less than 26 per cent of their population living in rural settlements and larger market towns (e.g. Burnley).
Significant rural (SR)—districts with between 26 and 50 per cent of their population living in rural settlements and larger market towns (e.g. Calderdale District).
Rural-50 (R50)—districts with at least 50 per cent but less than 80 per cent of their population living in rural settlements and larger market towns (e.g. East Devon), and
Rural-80 (R80)—districts with at least 80 per cent of their population living in rural settlements and larger market towns (e.g. Cornwall).

Defra Rural Urban Classification System
We have used premises as our measure but the accepted definition of the rural/urban split in the UK is 18.5% rural, 81.5% urban in terms of population. For those wanting to create a simpler set of figures, the accepted method is to combine R50 and R80 into a single rural figure, leaving Significant Rural on its own, and combine the three urban metrics.
While the BDUK process is often called the final third project, or rural roll-out by some the reality has always been that it had the aim of reaching 90% superfast coverage initially, with extension projects to take it to 95%. A very important point that we believe is overlooked is that this is NOT 90% of every community, but 90% of the UK as a whole, so areas like London which are beyond 90% already can subsidise the coverage in the more rural parts.
While there has been talk of a broadband USO nothing has been put in place yet, the UK Government was considering 5 Mbps, Ofcom favours a 10 Mbps target but we have been tracking 15 Mbps coverage as for households it is a speed allowing a couple of video streams and other activity thus representing what the majority worry over and it is perhaps this metric that shows 1 in 5 rural premises are below this 15 Mbps metric that may be the driver of the volume of complaints, rather than just access to a basic 2 Mbps which is adequate for basic use. When tracking our more usual local authority stats the FTTC heavy roll-out generally makes a significant dent in this metric.
This latest analysis of English broadband coverage has been produced in reaction to a recent paper from Oxford University that appears to have relied on coverage data from Autumn 2013 and given the UK has added 5 percentage points of superfast coverage in 2015 alone we felt it important to produce something from the recent data. The headline claim being that in deep rural areas 53% could not achieve 6.3 Mbps, where as data that is just days old shows 20% achieve under 15 Mbps in the most rural Defra classification. If there is significant interest we can sit down and work to classify the other councils that form Scotland, Wales and Northern Ireland following the Defra classification system.
Comments
Post a comment
Login
Register