More information on new Virgin Media ultrafast products
Friday, September 4, 2015 12:05 PM
The information missing from the recent announcement about Virgin Media moving customers to 100 Mbps, 200 Mbps and 300 Mbps tiers starting in October 2015 was what will the upstream speeds be and now we can reveal that the 300 Mbps product will feature a 20 Mbps upload, and the 200 Mbps service a 12 Mbps upload.
Sample Virgin Media 300 Mbps download, 20 Mbps upload speed test
Virgin Media always over provision the cable modem connection speeds, which means that when conditions are right it is possible to get speed test results nailed to the sold speed or sometimes even slightly above.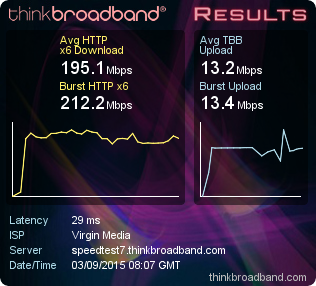 Sample Virgin Media 200 Mbps download, 12 Mbps upload speed test
We will of course keep an eye on the profile of speeds from our speed test as the upgrades take place, as this will give a good idea of how the roll-out is progressing in terms of what proportion of customers nationally have been upgraded. Plus doubling the speed of something like 4 million to 4.5 million broadband connections will have a major impact on regional averages.
Comments
Post a comment
Login
Register