Small business how much broadband does it need?
Thursday, September 3, 2015 10:01 AM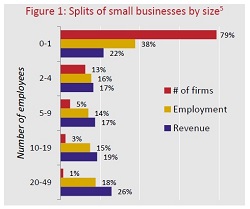 Just how fast a broadband connection does business need? 10 Mbps? 100 Mbps or Gigabit? Well that is a question the Broadband Stakeholder Group attempts to resolve in a report just published, and the results may surprise or upset some but it is still important for campaigners and decision makers to read the report in detail as even if you do not agree with the conclusions it contains a wealth of useful information.
The report considers both the size and as you can see in terms of number of businesses sole traders are king but also what they do, so a business in the construction industry will have very different needs compared to health or a computer consultancy or even a farm. A key factor and it may be controversial is the idea that they have modelled bandwidth needs based on a business being able to do everything needed, apart from the four busiest minutes of the month.
"The report matches small business premise demand against the broadband technologies currently available. We see that some small businesses are already capacity constrained if they only have access to ADSL or 'standard broadband' with upload much more of a constraint than download. By 2025, we see that about 20% small businesses premises, the vast majority of whose needs are currently being met by available next generation FTTC / DOCSIS3.0 technologies, could, if they remained limited to today's speeds, be constrained by them. The portion of employees constrained in some way would be larger.

Fortunately, by 2025, in addition to the continued development of FTTC and DOCSIS3.0, we also expect to see G.fast and DOCSIS 3.1 technologies deployed in much of the country and this would likely meet the demands of all small business premises. Fibre to the premise would clearly provide ample bandwidth, today and into the future, for small businesses."

Extract from Broadband Stakeholder Business Bandwidth Report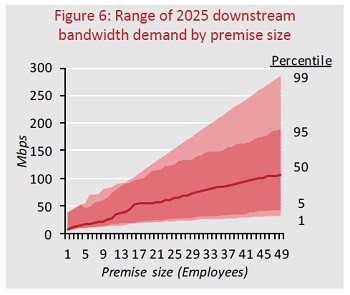 While it is easy enough to pull a single median figure and publish an average headline requirement the question is if the projections are in the ball park do we as a nation need to ensure 100% coverage of speeds that will cope with a 99th percentile bandwidth demand or as the report suggests will islands be sufficient, e.g. ensuring business parks have this sort of availability. If the public pocket is deep enough, or commercial broadband providers can be convinced to invest 100% coverage of all UK premises (business or otherwise) at the 300 Mbps figure by 2025 would be ideal and while that sounds ambitious we are on track to hit around 66% coverage at this speed in 2017/2018, the question just like in 2009 is how far will commercial roll-outs go and what damage this will have on the economy. Who knows it might be more beneficial for the Government to subsidise business relocation than actually install ultrafast for one firm.
Figure 45: Summary downstream bandwidth demand (Mbps)
Percentile
2015
2025
 
Prem
Emp
Prem
Emp
Median
5.0
8.0
8.2
18.2
95th
13.0
29.7
41.1
91.3
99th
21.7
47.7
67.5
143.9
Figure 46: Summary upstream bandwidth demand (Mbps)
Percentile
2015
2025
 
Prem
Emp
Prem
Emp
Median
1.2
2.7
2.3
4.7
95th
7.2
15.6
36.0
71.1
99th
13.5
25.1
43.8
90.5
The reports author has previously worked in Hong Kong and thus have experience of an urban area where superfast and ultrafast broadband has been widely available for some time and it seems even there in March 2015 43% of business broadband lines purchased were just 10 Mbps plans, where as in the consumer arena the demand for speed appeared higher with just 12% picking such a low speed package.
We know of various studies proclaiming increased house prices and economic benefits for business but an important question that is often overlooked in the rush for good PR headlines is raised by the report "Do increases in bandwidth always have a productivity benefit for a business, or only if its current bandwidth is insufficient?". Or put another way, a business that may now have access to a just superfast connection of 31 Mbps, will it become more productive in a way that improves its bank balance and tax revenues if they upgraded to a 300 Mbps broadband connection?
At the end of the day the report is not saying that providers should not invest in symmetric Gigabit broadband (no matter how its delivered) but is trying to provide some information in a void that is otherwise governed by rumour and gossip. The most important aspect to take from the report is that SME and business broadband usage is far from uniform, in fact we suspect that it may be more diverse than the average household, where the main variable is the number of teenage children and whether people in the home watch TV online.
Comments
Post a comment
Login
Register