8 out of 10 cats can now get superfast broadband in Wales
Tuesday, September 1, 2015 10:20 AM
The roll-out of superfast broadband in Wales is continuing and today we can announce that broadband coverage at 30 Mbps or faster has reached the 80% milestone (81.3% if you use the lesser 24 Mbps target).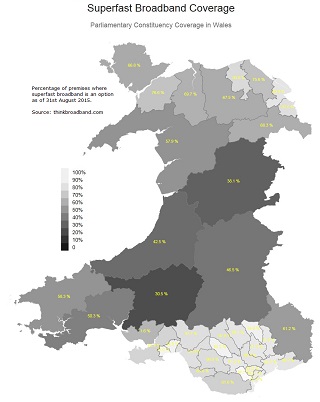 With 1 in 5 still not able to access superfast speeds and those left out becoming increasingly angry it is all to easy to forget that at the start of 2015 the coverage figure was a lot worse at just 69%.
The Superfast Cymru contract was signed back in 2012 with the lofty ambition of 96% fibre based broadband coverage. The current coverage of FTTC, FTTP and cable broadband in Wales without any speed qualifiers is 86.3% so another 9.7 percentage points of coverage are needed if the original by the end of 2015 date are to be met.
The coverage is far from uniform across Wales as the constituency level map shows, but when you consider that Cardiff and the large urban area around it comprise almost half the premises in Wales you can partly understand why commercial coverage concentrated in that part of the country and thus fairs so well in current coverage.
Superfast Cymru is deploying from FTTP/FTTH and coverage of 0.19% is small, but we have heard the ambition is to increase to around 6% or roughly 80,000 premises and based on the reports of people seeing work going on with fibre tubing we do expect the amount of native FTTP to increase in the next few months.
While the FTTC heavy roll-out has not solved all the slow broadband problems yet, we estimate just 0.8% of premises in Wales (around 9,500 to 10,000 premises) are only able to get a slower than 2 Mbps connection, though if the proposed USO figure of 5 Mbps is used this does rise to 7.8%. Based on experience from people with sub 2 Mbps speed connections all too often the choice of provider does not help, as a general rule the big name providers such as Sky and TalkTalk (and TalkTalk wholesale providers like the Post Office) do not provide a very good service outside their core network footprint, so if you are in a slow area and speeds plummet once the kids get home from school consider a change of provider. Another point not often understood is that even if FTTC is available at say 5 to 7 Mbps as it runs across the newer backhaul networks it will often out perform the peak time performance of the older IPStream Max (ADSL) service.
Comments
Post a comment
Login
Register