DCMS declares three million superfast premises passed milestone
Wednesday, August 12, 2015 8:02 AM
The BDUK phase 1 roll-outs continue out at a fast pace with the DCMS proudly announcing that the projects across the UK have now made superfast broadband (at speeds of 24 Mbps or faster) to some three million premises.
The last milestone was the 2.5 million mark passed in May 2015 and tracking the actual change since then until 10th August we can see an extra 640,000 have FTTC or FTTP available to them (a small amount of this will be delayed commercial cabinets). Of course the availability is not uniform and the map of Great Britain below shows the distribution by constituency.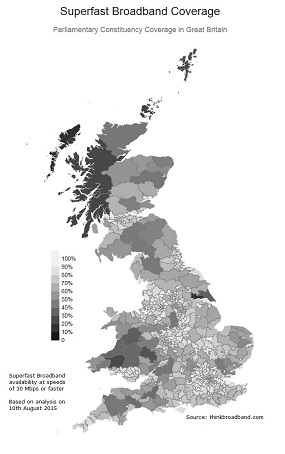 The coverage of fibre based broadband is higher as the DCMS apply a filter so that premises likely to get under 24 Mbps are not included and along with Northern Ireland that is missing our map you can check these figures and your own postcode using our availability checker at http://labs.thinkbroadband.com/local.
Comments
Post a comment
Login
Register