£18m of clawback money to benefit superfast broadband in Scotland
Tuesday, August 11, 2015 11:43 AM
Scotland which is running at 80.5% fibre based broadband coverage currently and thus still has around 4.5 percentage points of coverage to go to meet its phase 1 superfast broadband project goals is set to enjoy an £18 million dividend as part of the gain-share (claw back) system in place on the £410 million contract.
The National paper in Scotland covered the news, but we have chased and have been told the £18m is not new money but another chunk of the claw back announced by BT a week or so ago.
Fibre based coverage was sitting at 74.1% of premises in Scotland at the start of 2015, so the progress made to hit 80.5% is pretty clear and if it continues shows the 85% fibre based coverage goal is within reach. Once we add the various speed qualifiers to the coverage data we are tracking then current over 24 Mbps coverage is 76.6% and over 30 Mbps is 75.9%. The goal for some point in 2017 is 95% fibre based, which should deliver around 90% superfast broadband coverage.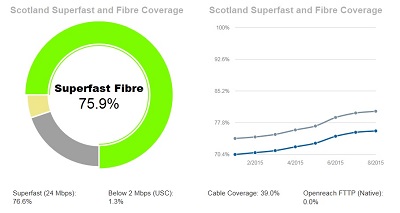 For those keen to track the rate of the roll-outs we recently added a coverage history button to our coverage checker so people can see how their own local authority or constituency is progressing towards the local target. While for many areas the rate of growth may appear to have slowed down in August, this is because we are only one third of the way through the month, and thus there are still perhaps another 500 to 600 of cabinets to go live during August.
Update 4:45pm Added the summary graphic for Scotland, and can give the ballpark estimate that re-investing £17.8m will help another 1.5% to 3% get access to a fibre based broadband solution. Based on the current roll-out we estimate that around 1.3% of Scottish premises are only able to order a fixed line service with speeds under 2 Mbps, 7.1% are under 5 Mbps and 15% are under 15 Mbps. Obviously the continued phase 1 and when it starts phase 2 roll-out should improve these figures, how much will depend on the mixture of technologies rolled out and which areas are targeted.
Comments
Post a comment
Login
Register