Ofcom under estimates price of BT Broadband
Thursday, August 6, 2015 11:15 AM
The annual Communication Market Report from Ofcom provides a useful but very long fact sheet and because it has the weight of Ofcom behind it, it is usually taken as gospel for any figures it holds. We were surprised to see BT as the cheapest fixed line provider on page 315 of the report.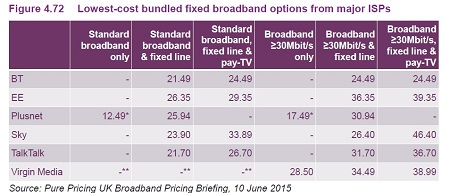 The BT price looks wrong as the voice line rental was £16.99 per month leaving £4.50 per month for the broadband, and as the foot notes tell us all promotional discounts are excluded. The cheapest BT service in June 2015 was the 10GB ADSL2+ service which outside of any 12 month minimum term promotions is £13 per month, and as offer prices have changed since June 2015 it is on offer for £5 per month (unlimited ADSL2+ from BT has a standard price of £18/month). The same issue arises for Infinity where the 20GB or 40GB has had offers of £7.50 to £10 per month when its standard price is £18 per month. This is also an unfair comparison for EE, who have a £2.95 unlimited broadband for 12 month minimum term and then £9.95 per month, where as the Ofcom table is using the standard price. Sky since June 2015 has increased its standard price from £7.50 to £10 per month.
The other products in the comparison are all unlimited services, so we feel it would have been better to compare like for like in terms of usage allowance too. Or at the very least compare packages that will handle the average data use of homes (which in June 2014 was 58GB, up from 30GB in June 2013).
Comments
Post a comment
Login
Register