Travel from the prehistoric to the 21st century at Wookey Hole
Wednesday, August 5, 2015 8:24 AM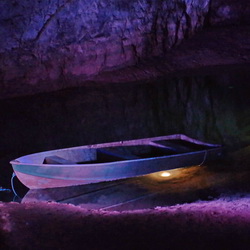 The fibre cabinet serving Wookey Hole (cab 1 on Wells exchange) has been live for a couple of months, but such is the timeline for PR material a release detailing that every postcode on the cabinet is able to get a superfast service has only just appeared.
On a day trip to Wookey Hole Caves that was totally unrelated to this announcement we got to experience the improved service with Zen Internet providing FTTC to the caves attraction and we got a respectable 31.5 Mbps down and 14.6 Mbps upload inside the mill building.
"Wookey Hole is an important attraction for us and has helped put the Mendip area on the map. For us to be able to say that Wookey Village has full superfast coverage is a real boon. This will give local people the opportunity to really make the most of the internet. It will help people with online shopping, learning, entertainment and paying household bills, and allow small businesses to function more effectively.

Harvey Siggs, leader of Mendip District Council
We know people will dispute the full superfast coverage comment, but looking at where properties are located, we predict the slowest will be 24 Mbps and Openreach gives a range of 22.4 Mbps to 44.6 Mbps for the slowest postcode so it is a justified comment in this case.
thinkbroadband calculation of Superfast Broadband Coverage in Somerset Constituencies - as of 5th August 2015
In ascending order of fibre coverage
Area
% fibre based
% superfast
24 Mbps or faster
% superfast
30 Mbps or faster
(change since 30th June)
% cable
% Openreach FTTP
% Under 2 Mbps USC
% Under 15 Mbps
Somerton and Frome
49.8%
43.2%
42.2% (+4.7)
22.9%
0%
1.6%
39.2%
Wells
73%
64.4%
63.3% (+13.1)
0%
0%
1.9%
26.1%
Bridgwater and West Somerset
71.9%
62.9%
60.5% (+0.3)
0%
0.3%
2.1%
28.2%
Yeovil
80.3%
72.9%
70.6% (+7.8%)
0%
0%
1.7%
17.2%
Taunton Deane
85.4%
74.1%
72% (+0.2)
0%
0%
4%
18.9%
While Somerset is part of the Connecting Devon and Somerset project we have just focussed on the coverage in the constituencies comprising Somerset in this news item and the change in coverage since the end of June 2015.
Comments
Post a comment
Login
Register