Windows 10 and a new working week breaks Internet
Monday, August 3, 2015 1:08 PM
Windows 10 may not have broken the Internet when first launched but it seems the staggered roll-out meant that when lots of small firms turned on their computers today the background download of Windows 10 start and this led to packet loss and very variable speeds across a number of medium to small business focussed providers this morning.
The symptoms started to appear almost dead on 9am today and may have peaked at around 10m, with at least one provider confirming they were seeing a lot of Microsoft/Akamai based traffic and at a sufficient volume to cause congestion. Browsing through the large number of Broadband Quality graphs that people have running we could see the exact same pattern elsewhere.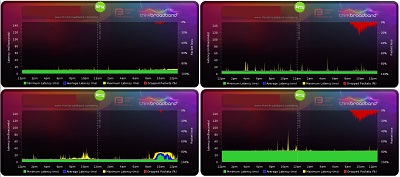 Click image for full size version.
The nature of networks in small firms is such that many computers will be set for automatic updates and thus the 9am boot-up while having the first cup of coffee will see the half dozen computers all in an office doing exactly the same thing. For those small firms creating digital content or coding things may have been different, simply because people will have decided to wait on the Windows 10 upgrade and once you get to firms that are large enough to have an IT department large updates like this will only take place when the IT department ordains it.
The advice therefore is, do not panic your broadband line is probably not broken but simply once the big rush to get a free copy of Windows 10 subsides things will improve. It does not seemed to have hit the big consumer providers in the same manner, probably because it is the peak holiday season.
Update 6:30pm As the day progressed things seemed to improve and a glance through the providers affected earlier suggests that things have settled down.
Comments
Post a comment
Login
Register