TalkTalk UFO cheaper than existing fibre services
Tuesday, June 23, 2015 10:54 AM
The UK broadband market may be about to see the same sort of disruption that TalkTalk created in 2006 as TalkTalk has launched its up to 940 Mbps service in York with the same price as their Simply Broadband ADSL2+ packages, i.e. £21.70 per month.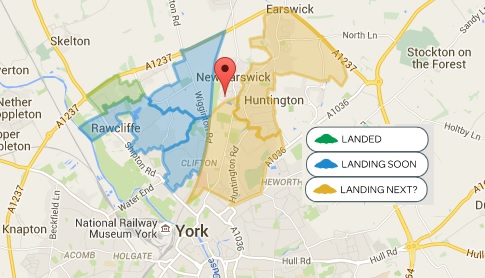 Click image for full size version.
The screenshot of the map from the TalkTalk Ultrafibreoptic website shows the small part of York where the service is in theory already available and the parts where it will be available next.
Interesting TalkTalk has avoided headline figures of 1000 Mbps and words like Gigabit on its website, for the simple reason that Gigabit Ethernet which is how people will connect their computer from the TalkTalk supplied router (wireless will be available but will not go that fast) has a speed limit around the 940 Mbps mark due to the overheads in carrying TCP/IP data in Ethernet frames.
With the price sensitive UK market it is not just about the fastest speeds and by pricing at £21.70 per month all inclusive, TalkTalk is actually making it a no-brainer for existing TalkTalk customers to upgrade, as they will save between £10 and £20 per month on the standard Openreach FTTC based pricing. Adding the Essentials TV service raises the price to £21.70 per month and Plus TV to £36.70. There is no voice line rental charge to speak of as it is all rolled into a single payment.
The area where the UFO has landed appears to match up with with a large Tesco's and retail park for now which may mean Wi-Fi speeds may improve if businesses sign-up to a business service.
Comments
Post a comment
Login
Register