Another committee to look into BT BDUK roll-out pace
Saturday, June 20, 2015 10:59 AM
A group of MP's from the South West are joining an all party committee to call for greater transparency and guarantees of value for money from BT in the BDUK roll-outs. The motivation is the anger and confusion at the local level for what some see as a very slow roll-out of superfast broadband in various parts of the UK.
"Thousands of people are still left with a third-rate service or even no service at all as result of the delaying antics.

This was not the intention: a firm timetable was set because consumers have had enough of delay and dither, but yet again BT is failing miserably.

When you ask BT for clear figures on its progress, what they will say is that they are rolling it out as quickly as we can given it's a very complicated project.

We're not getting answers and we've now decided to take things into our own hands."
One of the major problems since the inception of the BDUK scheme and it was clear to some, but lost in the modern world of PR and this was that from day 1 the scheme was aiming for national coverage targets whereas some coverage has led people to believe it was a pure rural scheme.
thinkbroadband has been working hard to keep track of the roll-outs and as the map shows coverage of superfast broadband is very variable and as we have said before when targets of 90% or 95% are set for superfast coverage even if the constituency is just 50,000 households that will be mean 2,500 to 5,000 premises will miss out, which in rural areas translates to a pretty big large number of villages.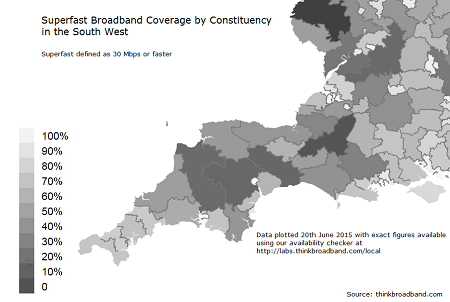 Click image for full size version.
In terms of transparency we see a wide variation from the different projects in terms of what is published, but since we launched our availability checker that tracks coverage and speeds it is possible for anyone to see how different areas are progressing.
thinkbroadband calculation of Superfast Broadband Coverage in Devon and Somerset Constituencies - updated 23rd June 2015
In ascending order of fibre coverage
Area
% fibre based
% superfast (>30 Mbps)
% cable
% Openreach FTTP
% Under 2 Mbps USC
% Under 5 Mbps (new USO)
% Under 15 Mbps
Somerton and Frome
40.3%
34.3%
22.8%
0%
1.2%
23.1%
41.4%
Tiverton and Honiton
55.1%
41.6%
0%
0%
3.1%
21.7%
38.9%
Torridge & West Devon
55.8%
43.2%
0%
0%
3.8%
22.9%
41.9%
Central Devon
61.7%
42.8%
0%
0.2%
3.5%
21.3%
44.1%
Wells
60.9%
53.1%
0%
0%
1.3%
14.2%
31.3%
Totnes
66.3%
60.1%
7.9%
0%
0.8%
12.6%
22.8%
North East Somerset
66%
60.6%
24.8%
0%
0.9%
12.2%
26.3%
Yeovil
70.3%
62.8%
0%
0%
1.6%
12%
20.4%
Bridgwater and West Somerset
71.5%
60.2%
0%
0%
2.1%
16.4%
28.5%
North Devon
73.3%
60.6%
0%
0%
1.9%
14.3%
26.7%
Weston-Super-Mare
73.9%
65.9%
0%
0%
0.6%
4.4%
17.7%
South West Devon
82.5%
78%
67.6%
0%
0.6%
7.6%
18.4%
East Devon
82.6%
72.4%
7.2%
0.2%
2.1%
9.6%
16.9%
North Somerset
81.7%
75.8%
42.8%
0%
2.2%
6.9%
14.8%
Newton Abbot
84.1%
75.2%
40.8%
0%
1%
5%
13.8%
Taunton Deane
84.3%
70.6%
0%
0%
3.9%
10.4%
20.2%
Bath
94.6%
93.1%
35.2%
0%
0.1%
0.5%
2.1%
Exeter
97.1%
96.9%
91.8%
7.7%
0%
0.7%
2%
Plymouth Sutton and Devonport
97.5%
97.3%
92.9%
0%
0%
0.7%
1.6%
Plymouth Moor View
98.9%
96.6%
88.8%
0%
0.6%
1%
2.3%
Update 23rd June 2015: Corrected the cable coverage in North Devon from 1.7% down to 0%. Increase in coverage over the period between 20th and 34rd and the overlap between FTTC and what was the believed cable coverage previously has meant that coverage has not gone down, but has increased in many of the constituencies. Also added Exeter and East Devon which was missed off the original table.


The village of Upottery mentioned falls into the Tiverton and Honiton Constituency and is one of those small exchanges where only ADSL based services are available. The Upottery exchange is around 80 postcodes spread over roughly 70sq km with just one cabinet and a lot of exchange only lines and really looks like one of those areas that falls into the 5% and will be waiting on the outcome of the various innovation fund projects underway.
The progress in Devon (excluding the urban jungle of Plymouth) is such that at the start of October 2014 superfast coverage was 40%, but since then around 70,000 extra premises can get superfast broadband taking coverage to an overall 59.5% at 30 Mbps or faster. As of 23rd June, the coverage of superfast broadband in Devon County has risen to 60.4%.
One aspect of the complaints that is confusing is that the MP's are calling for clear indications of when BT will hand over its financial contribution to the project, our understanding of the BDUK scheme is that BT pays for all the work upfront (apart from any demand generation schemes ran directly by local authorities) and then raises invoices which are paid from the scheme funds. Perhaps the MP's meant they want better transparency on the costs and invoicing so they can see whether BT is paying its share, or is everything being funded by public money.
Comments
Post a comment
Login
Register