Reasonable progress in Wales says Wales Audit Office
Thursday, May 28, 2015 10:40 AM
While the Wales Audit Office has not given a simple A to F grade to the Superfast Cymru project and BT, but the headline of reasonable progress is hardly a resounding endorsement.
"The report also found that:


there were initial weaknesses in the programme and project management but the Welsh Government now has clear and appropriate arrangements in place;
some local authorities, businesses and residents have not been satisfied with the communication about the Superfast Cymru rollout;
take-up of next generation broadband is rising, but there are no take-up targets in place;
the Superfast Cymru contract has already achieved most of the expected direct benefits related to jobs, apprenticeships and work experience opportunities; and
although arrangements to support and measure the wider benefits from the public investment in digital infrastructure have been weak, the Welsh Government is now developing a national project for the exploitation of next generation broadband by businesses and a plan for public sector exploitation.

The report makes a number of recommendations, which include:


improving communication about the local rollout of Superfast Cymru;
ensuring that 40 per cent of premises in the intervention area are capable of receiving download speeds of 100 Mbps or more; and
monitoring and supporting the take-up of next generation broadband; and improving the delivery of the full benefits of the public investment."

Summary from WAO report
The reasonable progress is of course no comfort to those who are yet to see any progress towards better broadband being available, but there is still time for significant improvements, e.g. Conwy before Christmas was devoid of superfast broadband but now has 55% of premises with access to speeds of 30 Mbps and faster.
Overall Wales has 74.9% coverage at superfast speeds (30 Mbps or faster and based on thinkbroadband analysis as of 26th May 2015), and FTTP coverage has improved some way since the WAO report was written rising from 325 to what we believe is 1,300 premises now. Of course the changes of this increasing to 40% of the Welsh intervention area looks impossible, so the 100 Mbps available to 40% is either going to be down to vectoring or some early deployment of cabinet based G.fast in 2016 or a fudge due to poor wording in the contract allowing Fibre on Demand to qualify.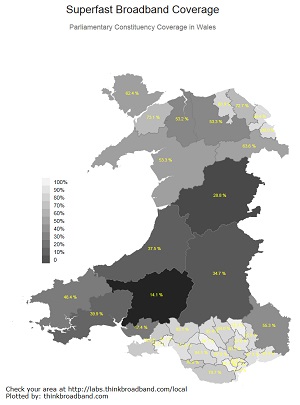 Click image for full size version.
The often talked about 96% target in Wales is the level of fibre based coverage without any speed qualifier, the contract calls for superfast to 90% of premises and the Wales Audit Office is using the lower 24 Mbps definition.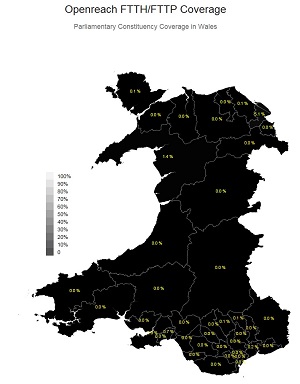 Click image for full size version.
The spread of native Openreach FTTP across Wales is limited so far, but much more is believed to be on the way, resources rather than will power are probably the limiting factor there. So while it is entirely possible Openreach may miss its end of 2016 deadline, with 18 months to go it does still look very possible. The problem is that even if Openreach/BT meet all the contract goals, there will still be the 4% with no access to anything fibre based and 10% getting speeds below 24 Mbps, so the complaints may be less in volume, but probably more vocal as those left out will feel even more abandoned.
When reviewing the problem of Wales only having one bidder, there was three other bidders at one time, but worries over the amount of funding they would have to put into the pot due to the £205 million cap on public money, concerns that Wales was looking for the lowest cost bid and too high risk levels due to size and complexity meant that BT remained the last human standing.
Comments
Post a comment
Login
Register