29 months after first BDUK cabinet, North Yorkshire completes
Wednesday, May 27, 2015 7:23 PM
North Yorkshire is a better place to live and work than it used to be before the BDUK roll-outs, the enabling of the 1000th cabinet via the Superfast North Yorkshire has been celebrated in Masham. The projects goal was to get fibre based broadband to 90% of North Yorkshire and our own figures show they have reached 88.7% as of 24th May 2015, there are a few more cabinets to process in the figures which will boost it closer to the 90%.
The more contentious area is how much superfast broadband is now available, our calculations suggest it is 73% currently, but this is for a minimum speed of 30 Mbps and the project is suggesting a figure of 86% at 24 Mbps and faster. The difference beyond there will mostly be down to pessimistic projections from ourselves, and maybe heady optimism from Superfast North Yorkshire (as a guide when we have manually checked our estimates against sample Openreach speeds and speed tests our estimates are towards the low end of the impacted estimate, i.e. often worst case scenario).
The question now is how well will SFNY move forward and how will the speeds of VDSL2 behave in practice, our speed test results for North Yorkshire plotted over the last six years show the progress that has been made and that people are upgrading to the faster products.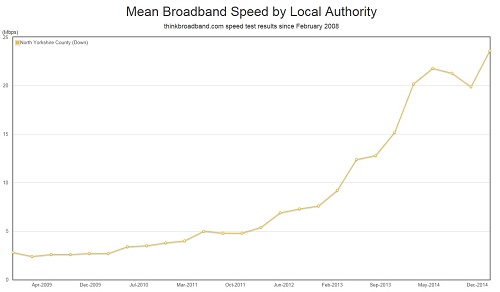 Click image for full size version.
The average upload speeds show a corresponding rise in speeds over the last few years. The historical trends show just how much has changed in the last five years, it is easily forgotten that five years ago streaming HD video was much harder than today, both in terms of finding content and your connection supporting it.
Comments
Post a comment
Login
Register